Graham Reid | | 9 min read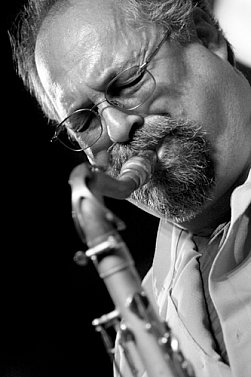 At 55, Joe Lovano is one of the leading saxophonists of his generation, and has a career notable for its diversity. He has played straight ahead and swing, worked with Cuban musicians and orchestras, done an album of Sinatra songs, and has enjoyed two longtime musical relationships: one is with guitarist John Scofield whom he met at Berklee in the early 70s; the other is with drummer Paul Motian with whom he has recorded and toured with (and with guitarist Bill Frisell completing the trio) over many years.
In this conversation he speaks about those musicians, the younger generation he sees now as a teacher himself, and about the touring life as he is out of the road again with Scofield.
The interview took place in early October 2008 when he was in Tokyo.
Did you play last night, Joe?
Yeah we've been playing every night.
Do they put you on early, I know they do with rock bands in Japan, like 8pm?
You play like 7pm and then 9.30pm and concerts here are sometimes you start at 6pm in as concert hall.
And what do you do afterwards? Because you are finishing about the time you might normally go on in the States.
Well, you go on the time schedule you are on and gear yourself up for what's happening. It's cool. Here in Japan there's a lot happening if you want to go for a stroll after the gig. This tour is interesting because we are doing a 20 concert tour which started in Seoul and we're four nights here at the Tokyo Blue Note - and it's nice to have a location because you can get settled - then we go on to Bangkok, Singapore and Manila before Australia and New Zealand.
Have you ever played in some of those places before?
Now, Seoul, Bangkok, Singapore and Manila - and also new Zealand - are all new to me.
Were the people in Seoul responsive?
We played a town outside of Seoul and it was a big festival. You know the Pori Jazz Festival in Finland, it's kinda patterned after that and they brought in consultants from the Pori Festival. I think this was their fifth year.
It was fun. The people were really into the music and knew us and there was about 8000 people there. It was a trip.
That must be encouraging for you to still be finding new and receptive audiences in new places all the time?
It's such a beautiful international scene these days. If you play in town in New York at the Vanguard or the Blue Note it is really an international audience -- and I have a chair position in jazz performance at Berklee College of Music in Boston and its an amazing array of students from all over the world.
I have a couple of classes where I'm the only American cat in the class! The class is people from Argentina, a lot of young Israeli students who are fantastic, a lot of folk from Japan and Korea, the Middle East and Europe.
When you reflect back to when you were a student at Berklee there would have been a very different cultural make-up.
Oh yeah. Back then there was only handful of Asian students and people from Europe. In the early 70s when Scofield and I were there you knew everybody and you'd see people walk down the hall and we knew how they played, 'he can play' or 'oh no, he can't play'. Everybody knew each other. Now there are thousands of students and it's pretty wild, but it's a healthy and vibrant scene.
That internationalism must mean you can find audiences all over the world now that are not only receptive but also knowledgeable.
Oh yeah, and it started with all the touring and Norman Grantz and Jazz At The Philharmonic programmes, in Europe especially when the master players like Kenny Clark, Bud Powell, Johnny Griffin, Dexter Gordon and Ben Webster -- all those cats moved to Amsterdam and Paris and Copenhagen.
So when you go to those towns now there is a love and history of the music there, and a lot of those cats who lived there taught everybody how to play and they created a world of music.
Steve Lacy lived in Europe for years and he created venues, like in sculpture gardens and in parks and in museums where no one ever played improvised music before. He created situation which are today alive and happening.
I'm reminded though that many of those people ended up in Europe because they were cultural refugees from America who were being given a lot more respect as artists in Europe.
Yeah, there was that -- and that it was the music was considered a high art. In the States it was more of a commercial thing which means a different attitude about a lot of things culturally and musically.
The music [in America] was a street music that came from the blues and everybody played in corner taverns and bars and it was created in a real grassroot level in neighbourhoods, and every town had jazz clubs.
Back in my dad's era -- he played saxophone and he was born in 1925 and grew up in that whole swing/modern jazz/bebop era -- there were clubs everywhere.
But then it became a marginalised music back home?
Yeah, but things move along. It really came from those grassroots into what it is now, which is beautiful.
You were talking about Berklee when you and John were there. It always seems to me when people talk about it back then their conversation is about the musicians they played with in clubs outside of the classroom. The real learning was going on in clubs.
Yeah, you have to live the music and your practice room, whether it's at a university or the basement of where you live, is where you put the elements together. But it is really about playing with other people and developing to a point where you realise you are playing to someone and for people, and with people.
See I came to Berklee right out of high school, but I had played with so many musicians in Cleveland that I had developed to a point where I had a repertoire that I loved to play -- and I could go play with anybody, of a different generation or in different settings.
Some students of mine now have never played with anybody and they don't have any repertoire. They study their horn and they learn these things out of books and from transcriptions -- but they've never shared a bandstand with another saxophone player for example. I've had some really talented players from Japan for example and they play and sound really nice, and I ask them questions about where they are from and I quiz them about who they've played with. And half the time they've never played with anybody, they go to university straight out of the practice room.
I had a beautiful young piano player who had never played with a drummer - except on a Jamey Aebersold record.
They could sit at piano and play incredible, but they are not telling any stories -- because they don't have a story to tell yet.
You've had a more than 30 years association with John and obviously hit it off on a personal level, but what did you hear in him and what did he hear in you that drew you together and has kept you together ever since?
We loved the same music and listened to the same records, and we knew tunes and could just play together without pulling out music. We could just play together from the first notes we ever played in a jam session or when I sat in with him at some club. But the main thing was we were coming from the same place.
What is it that he brings to bandstand that you know you can count on?
It's his sound, ideas and energy, his focus, his conception and approach about spontaneous orchestration in whatever piece of music we're playing. The trust that we have together with the form of what we are doing, and how we can share ideas, to share the same solo pace and give each other room to try and say something in he music.
Those things are all there from the first beat of each tune. That certain trust and focus is important. He's not just playing a guitar and I'm not just playing a saxophone, we're trying to play together. I'm trying to get into what he's playing and he's trying to get into what I'm playing. But that goes with the drum and bass too - and the cats we have with us on this tour are beautiful.
Actually Matt Penman is from New Zealand and he's a fantastic bassist. I've been playing with him in the San Francisco Collective in the last two years, and he went to Berklee at some time in the 90s for a brief time. And Matthew Wilson is a great young drummer. This is the first time we've really toured together but it's a beautiful quartet with a lot of communication.
Does this kind of touring enforce or instil a musical camaraderie that you wouldn't normally get if you were just meeting in a club for a date once a week or once a month?
Yeah, you get to know each other more on a personal level - the road can be a lot of crazy things but it's real important you have people you can travel with and enjoy the day with. Because a lot of cats out here can be real tricky! I've been on the road with quite a few folks over the years and this quartet is a real pleasure.
I know you kind of run a parallel career -- well, many parallel careers in fact -- with Paul Motian and Bill Frisell, a very different and quite extraordinary conjunction of individuals.
Yeah, we just did two weeks in early September at the Village Vanguard which we do ever year and I think this was the sixth or seventh year. Actually Bill was also at Berklee and we met around the same time as John and I met.
Now that's a really special trio for the communication and the repertoire is amazing.
I think the Time And Time Again album is quite extraordinary, that really speaks to me on some deep level.
Yeah, thank you. Paul wrote some beautiful things for that date.
I know that when some people look at your career and they see you play within so many diverse settings they find it hard to get a handle on you. But I guess why would you not want to do all of those things? Bruce Lundvall at Blue Note said to me what made you interesting to them as a record company was that no two Lovano albums are the same. Yet in any other musical idiom a record company might have got rid of you because of that every fact.
The thing for me is there are so many cats make the same record over and over again, and there's just nothing happening. Coltrane never made the same record again and again, Miles Davis too. Every Miles record stood on it own completely. Art Blakey and the Jazz Messengers, every record was a story in itself.
And there a lot of cats play the same solo on every tune. It might be great solo and there are some wizards - I won't name any names - but there are plenty who play the same solo on every tune. I recognised that when I was a kid and that's why I love to play a lot of different music with a lot of different people, it's inspiring and over the last few recordings to play with Hank Jones or McCoy Tyner or whoever, with my nonet, Gunther Schuller's orchestration of The Birth Of The Cool Suite -- all those things fuel my ideas and keep me not only on my toes and fresh - and the challenge is there of course too - but to speak the truth of who I am through all that music is what it's about.
Working with Bruce Lundvall and having his trust has been amazing. My new recording Symphonica is the 20th record I've done for Blue Note since about 1991, and that's an amazing journey.
And I've been able to not only record those things but what is most important is that I have presented all those things. Every record that has come out I've had a band to represent what I've documented. And then we explore the music deeper and more fully, that has been beautiful to realise that I have created all these different situations and bands with all these people who are in my life.
It's been inspiring to me and I still feel like I'm just scratching the surface.