Graham Reid | | <1 min read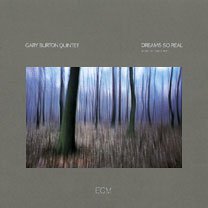 Another in the on-going series of mid-price reissue of ECM albums from the vaults, this recording of material by Carla Bley comes from 1976, and vibes player Burton with a band of luminaries who went on to become major players and central to the ECM roster: guitarists Mick Goodrick and Pat Metheny, bassist Steve Swallow and drummer Bob Moses.
When this doesn't swing like very hip pendulum it is quietly introspective as Burton's vibes explore almost eerie space with a translucent quality (the oddly entitled Wrong Key Donkey Jesus Maria).
There are delightful ballads too (Vox Humana), and all up this is one of those quiet gems from the vast ECM catalogue thoroughly deserving a re-presentation. Cheap(er) too.