Graham Reid | | <1 min read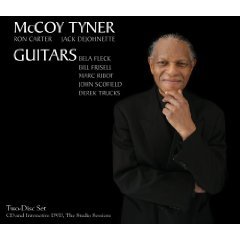 This jazz giant will be 70 in December 2008 and can reflect on playing piano with the likes of John Coltrane in the 60s then a multi-faceted career as a leader, assimilator of world music possibilties, bands or albums with guitarist John Scofield, tenor players Joe Henderson and Joshua Redman, altoist Arthur Blythe and many other innovators.
But you'd think he might be slowing down by now.
This thrilling album (with the rhythm section of Jack de Johnette on drums and bassist Ron Carter) suggests the exact oppostite in fact.
Here with a stellar line-up of exciting and often challenging guitarists - Marc Ribot of Tom Waits and Elvis Costello albums, Scofield again, Bill Frisell - and avant-banjo player Bela Fleck, this offers material which is edgy and uncompromising, gets free and furious in places, stings rather than seduces mostly, and finds the pianist perfectly at home on tunes and musical sketches others have written and brought to the sessions.
This is jazz as it should be: vigorous and probing, shot through with odd angles and the unexpected, creative and sometimes edge-of-the-seat stuff.
This exceptional album also comes with DVD which takes advantage of multi-angle possibilities and you can have hours of fun with your remote focusing in on individuals or having four camera angles at once on your screen. It is as innovative and multi-levelled as the music. And it has rehearsal footage.
Quite some package from quite some jazz genius whose powers are undiminished, and a man who is clearly still up for a challenge.