Graham Reid | | <1 min read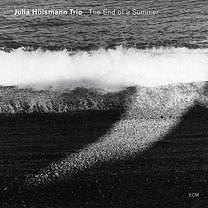 The prolific ECM jazz label has been getting a few notices at Elsewhere in recent months, but largely on the strength of its mid-price reissue of some excellent releases from its early catalogue such albums by the Gary Burton Quintet , Paul Motian and Bill Frisell.
But of course ECM has an on-going series of contemporary releases, among them this (mostly) quiet, romantic and gentle label-debut by German pianist Hulsmann and her trio.
There is a haiku-like economy and stillness about her playing on the spare and slow pieces where you feel every note has been selected for its emotional weight and suggestion, and where a sublime and understated elegance is the over-riding consideration.
The marginally more up-tempo numbers (notably Quint) however hint at someone who has done her Thelonious Monk homework and kept an ear on Bill Evans as well.
Hulsmann is a name new to me -- and the ECM label it appears, although this trio has been active for a decade -- but I suspect that once sampled (and you may feel these 10 tracks make a platter of small, exquisitely rendered and individually different tastes) then she will become quite an emblem for a label of which a critic once said, "the most beautiful sound next to silence".