Graham Reid | | <1 min read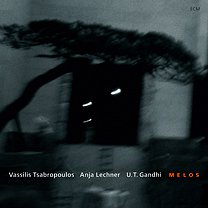 On a first encounter you will think you won't get much bbq season play out of this melancholy, autumnal album of original pieces by pianist Vassilis Tsabropoulos and interpretations of short compostions by Gurdjieff which come coloured by the lachrymose violincello of Anja Lechner. Song of Prosperity 1 sounds anything but.
However there is a keen emotional intelligence here best heard in Gurdjieff's Tibetan Dance and Sayyid Dance which seem to sit effortlessly between the East and West, in the sublime playing of Tsabropoulos who has a direct and linear style, the aching cello lines which weave between, and the percussion punctuations of UT Gandhi.
Tsabropoulos' compositions can sometimes have a heroic quality (the uplifting Gift of Dreams), an unexpected sprightliness which draws on Greek folk melodies (the brief and lively Reflections, the seven-minute jazz-influenced Vocalise) or an ethereal, melodic lightness (Promenade) so this isn't all as introverted as the title track opener and slow, stately pieces such as Simplicity and Song of Gratitude suggest.
Thoughtful, rewarding and a taste worth acquiring.