Graham Reid | | 4 min read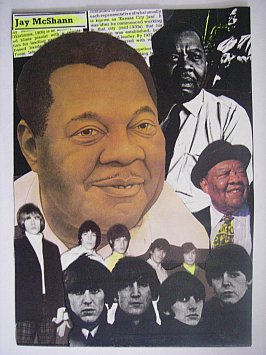 About 20 years ago I interviewed the legendary Kansas City pianist, Jay McShann, in an Auckland bar. He'd flown in late the previous afternoon, had a "talk-rehearsal" with the local rhythm section, and that night played two exceptional sets of good-humoured Kansas City boogie and blues, sometimes sounding like he was coming at you direct off an ancient 78rpm disc.
McShann was a remarkably durable man – he was in his 70s and still playing 42 weeks a year – and a rare living link to another era. He was in Kansas City in the 30s when it was a hotbed of nightclubs, pimps and whores, and gambling. The city had a politician to think for that, the notorious Tom Pendergast, head of the local Democratic Party, who controlled things the old fashioned way: through bribery and muscle, but bestowing favours on friends, and opening the place to entertainment.
McShann went almost glassy eyed with nostalgia when speaking about it.
"In KC they had music piped out into the streets and musicians from all over the country came there. Any time you find a town as wide open as that, the musicians and pimps and babes move in. Well, that's their thing," he laughed knowingly.
At the time he was a teenager playing with a trio in the Munroe Inn, a neighbourhood bar which closed at 10pm. Afterwards, he haunted other places and one night he heard the sound of a saxophone winding out of a club and was immediately impressed. He walked down the stairs and into history.
He met Charlie Parker.
The two struck up a friendship, Parker sat in with McShann sometimes, left town for another tour then returned to join the McShann Orchestra. In 1941 they recorded the vigorous Blues From Kansas City which captured the band and the young Parker (who gets solos on half a dozen tracks). Two years later Parker left and went on to greater things.
McShann was labelled unfairly as "a Kansas City pianist" despite his expansive repertoire born out of being bored if restricted to only playing the blues.
That morning when we spoke he told great stories about meeting Parker, KC in the old days and so on – and more fool me I thought I'd got a scoop. About two months later I saw another interview with the old boy and bugger me if he'd didn't say the same things in exactly the same words.
I haven't thought much about McShann since – to be honest I thought he'd passed on – until a new album by this man who was at least 87 came my way a couple of years back. With guests Johnnie Johnson (Chuck Berry's long-time ivory tinkler) and guitarist Duke Robillard, the album takes McShann back to these roots. If he ever consciously tried to escape the KC tag he's clearly given up, Going' to Kansas City found him effortlessly flicking through his old songbook and it concluded with a 20 minute interview with him at home at the piano and talking about KC days.
It's a great package -- BB King's cover testimonial is true, he is "the most under-appreciated bluesman" -– and for me brought back memories of that interview and how the old bugger toyed with an enthusiastic and naive interviewer.
But the track listing – Lieber and Stoller's Kansas City that he claimed as his own and which the Beatles covered, Trouble in Mind, Confessin' the Blues which the Stones recorded and his famous Fish Fry Boogie – reminded just how much a cornerstone blues/jazz/boogie artist McShann is.
That he was still recording in the new century was nothing short of remarkable.
Consider: He recorded with Parker who had been dead almost half a century, sold almost a million of Confessin' the Blues back in the 40s; had a resident band at New York's Savoy Ballroom; struck up a friendship with Art Tatum who admired his style; wrote music which touched the Beatles and the Stones in the 60s; had two huge selling albums in the late 70s/early 80s with the The Last of the Blue Devils and Big Apple Bush (with then-youngsters John Scofield alongside Gerry Mulligan, Herbie Mann, Doc Cheatham and Brubeck drummer Joe Morello) . . . And he was still around in the 21st century.
Known as Hootie to his friends (his hit Hooties Blues written by Parker, singer Walter Brown and McShann, is about the pianist's legendary capacity for alcohol), McShann's personal style encompasses stride, swing, straight ahead blues and some entertaining on-stage humour. If Goin' to Kansas City was any measure, his vocals were undiminished by the years also.
But it was Confessin' the Blues, – with guest singer Maria Muldaur on Goin' to Kansas City - which he will be remembered for. It isn't such a stretch to suggest it laid the foundations for r'n'b and subsequently early rock'n'roll, which is doubtless why it appealed to the young Mick Jagger and Keith Richards.
McShann didn't much care for their version (on the Stones: 1964 album, 12 x 5) and offered a clear-eyed observation of them at that point in their career. "They were recording a lot of people's stuff because they were in a hurry to get that money. And it worked for them, all right."
Life worked out for McShann took however. Don't think of him as some undiscovered genius down on his luck. He made money (lots from Confessin' the Blues), had recorded constantly, and still toured sometimes. In the interview on Goin' to Kansas City, an album which is an effective career summation, he jokes about firing musicians, how he'd hold on to Parker's horn when lending him laundry money to ensure repayment, and how they'd shame band members who picked up ugly women when they were on the road.
Jay "Hootie" McShann still told a good story, and in this interview never once repeated what he told me 20 years before. The old bugger.
Jay McShann died in Kansas City December 2006. He was 90.