Graham Reid | | 4 min read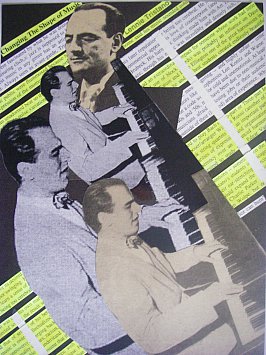 Strange coincidences can be unnerving. They make you wonder if there isn't a guiding hand behind the randomness of life. In late 2003 while unearthing some old vinyl I turned up an album I thought deserved a re-hearing. I put it by the stereo and promptly forgot about it.
It was by American pianist Lennie Tristano.
The thing was still there when someone asked for a copy for a lengthy interview I did in 1984 with ex-pat pianist/composer Alan Broadbent, now a Grammy-winning arranger living in LA.
I flicked through the article and there was Broadbent talking about how he used to go to New York from Boston for lessons with Tristano. Later, while looking up something in an ancient jazz encyclopaedia, two yellowed clippings fell out.
They were Melody Maker's obituaries for Tristano.
I was reading them when an e-mail came through with the deadline for this article. I glanced at the date on the clippings. That very month Tristano has been dead 25 years. That – and because few today talk about the guy many jazz and classical musicians consider a genius – made me think there was something more than coincidence guiding this.
The Tristano album by my stereo is from the period when he gave up live performances and just played in his small apartment. Broadbent told me this man who was blind from an early age still didn't have the lay-out and would constantly bump into things. It's easy to imagine because Tristano was an intellectual, removed from the world and the emotional playing of the bebop era. He preferred an academic concentration on tone and structure. His disciples are mostly horn players like Lee Konitz and Wayne Marsh.
In his Melody Maker obituary Brian Case observed that Tristano's emotional coolness went against the prevailing trends of the late 1940s and 50s and Tristano did himself few favours by saying John Coltrane, Sonny Rollins and Miles Davis were, "all emotion, no feeling. Their stuff is an expression of the ego; I want jazz to flow out of the Id. Putting it another way, real jazz is what you can play before you're all screwed up; the other is what happens after you've screwed up."
Well, most of us would say hats off to the screwed-up ones. But Tristano's music has more to offer than cold analysis, and his life was a struggle against indifference.
Born in Chicago in 1919, Tristano attended a school for the blind where he learned music theory and a number of instruments. His mother, a pianist and opera singer, had already introduced him to the sound of the world he could not see, and while studying for a degree (which he received in 1943) Tristano taught and played around Chicago. He attracted students such as Konitz and the composer/arranger Bill Russo.
In 1946, Tristano moved to New York where his approach was hailed by the influential critic, Barry Ulanov, and he played alongside Charlie Parker and Dizzy Gillespie. Later on, Tristano joined Marsh's group for a series of influential recordings.
But while bop players improvised complex solos, Tristano's was a more analytical approach: he would break down melodies and harmonies to reconfigure them, adding counterpoint and rhythmical changes.
It was difficult to put on the bandstand – condescendingly referred to as "Chinese music" by some – and so in 1951 he founded his own school of jazz. It closed five years later and Tristano continued to teach in his Long Island apartment. He rarely made it back to the stage and recording became intermittent. His last public performance was in 1968, a decade before his death.
But his music, having fallen from critical favour for its perceived lack of passion as opposed to that of his contemporary Bill Evans, was still influential. Gerry Mulligan insisted Tristano was more responsible of the 'cool school' than Miles Davis and that his work was woefully under-appreciated.
"But Lennie always had his own thing going; he never came out in the big world."
Which is why he withdrew and took on private students.
"My music is always in a state of development," Tristano once said, "and that's no way to sell something."
One encyclopaedia says if Parker was the Schoenberg of modern jazz then Tristano was its Webern, the master of concise playing whose every note is important. The classical analogy is relevant because a decade before Jacques Loussier was using Bach as a springboard in the 60s. Tristano was doing something similar as can be heard on the album Wow with Konitz, Marsh and guitarist Billy Bauer.
Classical listeners often appreciate Tristano more than jazz aficionados. His Descent into the Maelstrom from 1953 is considered a major modernist work and while it lacks melody, a firm meter and even a theme it isn't free jazz either. It was, like much of Tristano's work, out on its own.
"There's a small audience for my work," he said in the early 50s, "because what I play is so unorthodox that when you first hear it, you don't try to anticipate. You just still there. You have to be very relaxed to start with before you put on one of my records."
We live in an age when the musician's life has become more important then their music, when the artist is massaged by the machinery of promoters, record labels, managers, make-up artists, MTV and the media.
Tristano -- who died in November 1998 at age 59 -- wouldn't buy into any of that. He once said, "I'm very much for anonymity, I wish my work could remain unsigned like somewhat of the great works from 2000 years ago, but I don't think that's going to be undone this century."
He also said: "Art is never commercial; as soon as it gets commercial it's not art. Its commercial art."
I was listening to Lennie Tristano and thinking about that the weekend yet another music television channel was launched.
What a strange coincidence.