Graham Reid | | <1 min read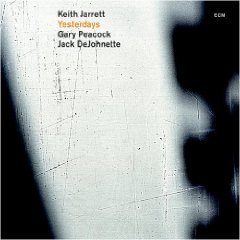 Arguably the greatest working jazz trio in the world today, pianist Jarrett, bassist Peacock and drummer DeJohnette once more look back for source material while remaining utterly contemporary in their approach.
Just as they have done when delivering excellent interpretations of material from the Great American Songbook, here they re-invigorate swinging bebop (two Charlie Parker pieces, Horace Silver's Strollin') as well as delightful interpretations of standards (Smoke Gets in Your Eyes, Stella By Starlight).
In front of a reverently respectful audience in Tokyo, the trio takes this material through new dimension of enjoyable and seemingly effortless invention. Outside of his spare treatment of ballads (the title track here for example) there has been a joyful liveliness in Jarrett's playing in the past decade and that is again evident in some of these infectiously good natured pieces where Peacock and DeJohnette pull in other accents for him to respond to, or vice versa.
Emotional and musical intelligence at its finest.