Graham Reid | | 4 min read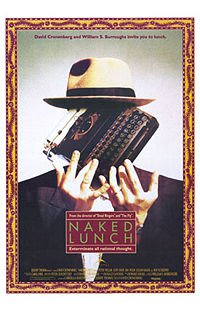 Movie director David Cronenberg was a gutsy guy, asking Ornette Coleman to play on the soundtrack for his inspired but ultimately flawed realisation of crusty old Bill Burroughs' Naked Lunch.
Ornette Coleman was the perfect choice, of course – eccentric and of Burroughs' period, he'd spent time in those hills above Tangiers and had the musical accomplishment to effortlessly turn his hand to directing the London Philharmonic. It's just that his soundtrack career wasn't that steady.
In fact, the first soundtrack he did, for Conrad Rooks' Chappaqua back in '65, was considered too powerful so was pulled from the final cut and the job handed over to Ravi Shankar.
Coleman learned to rein himself in for the movies and had done half a dozen soundtracks mostly for talk-of-the-town docos and features such as Communication Explosion, Run and Box Office (nope, never heard of 'em either, I'm afraid).
While Naked Lunch wasn't likely to redirect the course of soundtracks, it did allow Coleman's distinctive saxophone and compositional styles to be heard by yet another audience.
He's long been considered a genius in jazz circles – well, in truth he's been considered unlistenable, insane, eccentric, individualistic, then finally recognised a genius – although some older heads still find him a tough proposition. As with most people of vision, Ornette just had to wait for the world to catch up.
Some are still working on it and recently one jazz magazine, when apologising for an editorial error, said it would, by way of penance, listen to Coleman's Free Jazz album five times over. Ornette – he just can't win.
But he is a genius and doubtless his time will come. Probably after he's dead – he's a very fit, active and creative, and highly regarded – and those previously unpersuaded writers will assuage their collective guilt by raving over box sets or reissues. Or maybe not.
Ornette is just too big to encompass.
Try getting your head around all this from the Texas-born alto player who has added tenor, violin and trumpet to his range and has invented his own musical system (harmolodics) which few understand and even fewer play.
His first albums – Something Else!, Tomorrow Is the Question, The Shape of Jazz to Come and Change of the Century - back in the late 50s absolutely bewildered critics at the time, although in retrospect the titles should have been the warning. With bassist Charles Haden, trumpeter Don Cherry (Neneh's stepfather), Ed Blackwell (or Billy Higgins) on drums, Coleman's music flittered free and defied convenient pigeonholing.
Looked back on now, it has a tough Texas heart, melodies to burn and a flexibility that anticipated all that followed. Coleman not only freed his own playing but also loosened up the rhythm section.
But it was Free Jazz that really caused the stir. Two quartets playing different things simultaneously – that is, two drummers, two bassists...
Yep, really sorry about that I promise to listen to Free Jazz five times by way of penance.
Coleman, whose spoken language observes few linguistic boundaries, was hearing the world a very different way.
In the past three decades he has played with Yoko Ono (heard on her Plastic Ono Band album but not included in the '92 Onobox set), brought in his pre-teen son Denardo on drums to add a random factor to the rhythms (Ornette at 12 in '69), recorded with Friends and Neighbours live in '70, and played with the ancient Master Musicians of Jojouka in Morocco (the same people Stone Brian Jones, Bill Burroughs and others hung out with).
He has recorded with the London Symphony Orchestra (his Skies of America in '72), been tossed off every record label imaginable, made some of the most challenging pre-punk rock music ever (with Hendrix-on-a-rollercoaster guitarist James Blood Ulmer), and recorded some of the most beautiful, heartarchingly melodic and exciting music in jazz (Body Meta and Soapsuds, Soapsuds on the tiny, short-lived Artists House label in the late Eighties helmed by John Snyder)
Coleman was picked up by long-time fan guitarist Pat Metheny for the Song X album (on Geffen in '86) and has undergone a massive reappraisal by jazz writers since the mid-80s.
He started recording for the short-lived Caravan of Dreams label in Texas, scored string quartets for it and then reunited with his original quartet and his Prime Time "rock" outfit (on the astonishing double In All Languages).
There's another book out about him, The Adventures of Ornette Coleman or the Harmolodic Life, and he gets photographed for chic fashion quarterlies (always a snappy, colourful dresser). Uber-hip John Zorn covered him, and his business affairs are ordered by son Denardo, who was responsible for perhaps Ornette's most accessible album, Virgin Beauty in'88
Virgin Beauty is the ideal jumping-in point for Coleman. The saxophone flicks across the most subtle of synth (and real) percussion guitars by Grateful Dead's Jerry Garcia or his Prime Time bandmen Charlee Ellerbe and Bern Nix crisscross and the whole thing seduces gently.
Like most Coleman albums, it sold very little but it was sobering to think that the finest music of Coleman's career was still being made. As that album title from way back said, tomorrow is the question.
Back in June '87 the Village Voice included a jazz supplement. It was all devoted to Coleman under headings such as Ornette Coleman's Beautiful Difference and Playing in the Register of Light. One article simply looked at the clothes he wore – broad-striped splashes or rich colour, oranges and bright reds – as a reflection of the music he made.
In one of the articles Kathelin Hoffman of Fort Worth's multipurpose performance space Caravan of Dreams said "we wanted to do something historic to open the Caravan. Ornette's a major influence in the music world that we represent artistically, just as William Burroughs is in the writing world."
Her prescience has been fulfilled by the pairing of these two idiosyncratic figures under the eye of David Cronenberg in his film Naked Lunch.
But Ornette is still to big to deal with – about 40 albums all up, most of them difficult to find. The soundtrack, which includes Coleman playing within a score by Howard Shore, some Moroccan-influenced pieces and typically serpentine sax, is a colour chart of an astonishingly rich career.
Few composers (let along black jazz eccentrics from Texas) have achieved that honour of recognition by first name only. Ornette – it has a nice ring to it.
Always playing in the register of light, always perilously expressive, playing In All Languages... and most often Something Else!