Graham Reid | | 1 min read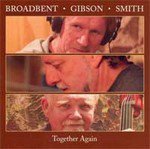 The title of this album might better be Together Again . . . At Last because it has been far too long since LA-based pianist/composer Alan Broadbent and bassist Putter Smith recorded with Auckland drummer Frank Gibson. (It might not seem that long because their Over the Fence album of 1990 was reissued on Ode two years ago.)
That said, they fit seamless together once more on this collection which boasts five Broadbent compositions (among them the beautiful Continuity, the title track to a duets album he did with Smith in the early Eighties but here given a mellow midnight reading).
This time out the core trio is augmented by LA saxophonists Chuck Manning and Gary Foster, and singer VR Smith who has a classic, slightly bluesy quality and brings a kind of optimistic ennui to Broadbent's achingly lovely Heart's Desire (which the trio explored on Over the Fence).
Broadbent is a beautifully understated player (evidenced not just in the music but his Grammy collection) and he is a calming influence everywhere here, and as always essays some wonderful tunes (Lee Morgan's Ceora, a springing and swinging Charlie Parker's Relaxin' at Camarillo which lets everyone off the leash).
He is endlessly inventive -- check his playing on I Thought About You which sounds so effortless -- and that inspires these players: they step up for a swinging This One's For Bud, keep it all downkey and laid back for Sweet and Lovely and the final track is a spare We'll Be Together Again -- which we might hope is a statement of intent also.
My preference is always for Broadbent on ballads and here I'm spoiled for choice. But as always, jazz is about the intuitive understanding between the players and what each brings. Here they have brought as much soul and heart as intelligence and technique.
A wonderful, if long overdue, reunion.