Graham Reid | | 5 min read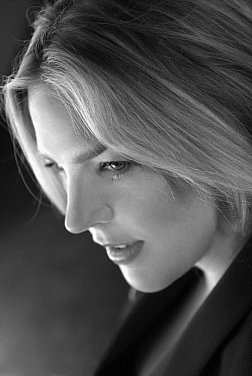 Grammy-gathering jazz pianist and chanteuse Diana Krall is shameless about her musical taste. She's about to go on stage in Philadelphia with Tony Bennett, but is confessing about the music she's listening to on the tour.
Not unexpectedly, she rattles off a few by jazz artists such as John Coltrane, Cannonball Adderley and Ella Fitzgerald, namechecks Johnny Mathis a few times, then ... "Lemme see, there's Elton John, Stevie Wonder, Massive Attack, Peter Frampton's Frampton Comes Alive, Supertramp's Crime of the Century ... "
Hold on. The 70s stadium rock of Frampton and Supertramp?
"Oh yeah. I had a Frampton poster on my wall. I was a regular kid practising Goodbye Yellow Brick Road and Bohemian Rhapsody. I loved Queen."
At 34, Krall may be the premier interpreter of the Great American Songbook, but she is also of her generation.
She grew up "normal" in Nanaimo, on Vancouver Island, considers her success "unexpected," and respects her elders and peers.
Despite acclaim as a first lady of jazz, profiles in pop magazines and mainstream newspapers, and sensuous photoshoots for Vanity Fair, Krall is disarmingly normal. And in jazz culture - where the expectation is of lonely hours spent practising and tortured by her gifts while friends were out dating and doing teen stuff - that almost makes her an oddity.
Krall, even down a phone line and just before going on stage, is quick-witted and not afraid to make a bad joke. She takes her art seriously, and herself not much. Perhaps that is why she has become the darling of the mainstream press. That, and those blond good looks.
Krall gives good photo ("stagelights love her, so does the camera," says critic Gene Lees) but she gives better concert. Certainly she can fall back on jazz's conversational cliches ("I find something new in the music every night," she says flatly, when asked if she has tired of playing the same tunes for the past year) and she doesn't suffer fools gladly.
Ask what drives her to still be playing 300 concerts a year when this year's Grammy nominations and awards could allow her to pull back a little and she bluntly closes down the inquiry: "The music. It's better than an audience not hearing it. That speaks for itself."
But once she has warmed to the conversation she is witty and amusing.

"I grew up listening to cylinders, early recordings. My dad collects Edison recordings and gramophones and also 78 rpms, so I heard everything from Spike Jones to Fats Waller, and lots of early Bing Crosby. That was the atmosphere I grew up in.
"But he was also into Creedence Clearwater Revival and the latest pop music of his generation. At the same time, I was a normal teenager, out swimming, horseback riding and growing up on the beach listening to the same pop music as my friends."
While Krall may not fit with the preconceptions of a jazz musician, she has certainly fitted effortlessly into the music.
Her parents were both music lovers and encouraged her talent.
In her mid-teens she attended a summer jazz camp run by flute player Bud Shank and through him met great players such as Ray Brown, from Oscar Peterson's band, with whom she would later record.
A scholarship allowed her 18 months at Berklee College of Music in Boston from 1981 and it was at the suggestion of saxophonist Jeff Hamilton she moved to Los Angeles when she received a grant from the Canada Arts Council. There she studied with ex-pat Kiwi pianist and composer Alan Broadbent.
"I admired his work and studied with him quite a while, and love him dearly."
Broadbent is her North American conductor whenever possible and the track When I Look in Your Eyes on this year's Grammy-nominated album of the same name is an arrangement taken directly from him.
In her 20s, Krall made fast progress: she studied with Jimmy Rowles, a pianist with an encyclopaedic repertoire, who not only taught her piano but put her in touch with the jazz tradition by telling stories of Billie Holiday and Sarah Vaughan, with whom he'd worked.
From there it has seemed like a dream run: she played with many of the legends she'd looked up to; her 97 Love Scene album sold over half a million copies and When I Look in Your Eyes had tracks arranged by Johnny Mandel and was nominated for a best album Grammy this year alongside Carlos Santana, the Backstreet Boys and Dixie Chicks.
"That was a big deal. No jazz artist had been nominated in 22 years, not since George Benson, I think - and we won two categories, for best engineered and best jazz vocal performance. And I haven't stopped working since."
Over the years she has been criticised for not writing her own material - she has done so recently she says - but when pressed whether she would consider an album of more contemporary standards, she makes an instructive analogy.
"I'm like the Kenneth Branagh of jazz. I do Shakespeare but try to put new spins on it. I do other music, but mostly stick to the American songbook.
"I think the art of interpreting a lyric is like being in character. I might just be like a Shakespeare specialist. That's not to say Branagh doesn't do anything else either, but he has a particular speciality.
"I won't do a pop tune for the sake of doing one because I know I can do it. I can basically interpret anything that appeals to me, whether it was written by Elton John or George Gershwin.
"But the beauty of [American standards] is they are interesting to a jazz pianist. They can be pulled, stretched, reinterpreted and reharmonised. So they are interesting from a piano perspective.
"Then, as an interpreter of lyrics, the stories they tell are interesting, timeless and witty and I'm not going to sing about something I can't in some way relate to."
She is dismissive of those who suggest her dream run means she can't understand the emotional content of some of the sadder songs in her catalogue.
She speaks about the Buddhist approach of being compassionate and having empathy. And gives every impression of not caring much what her critics think.
She escapes the jazz life in the way the girl from Vancouver Island knows best: "I go to the gym, hang out with friends. I go to California to ride my horse. I'm an outdoors person and I love that. For heaven's sake, I went to Antarctica for Christmas, which was pretty wild."
She sounds like a woman thoroughly enjoying her life.

"Oh yeah. but I still get the odd question which is like, 'You're a blond girl from Nanaimo, what are you doing playing jazz?' That's so ... oh, get over it. Everyone is smashing stereotypes and it's all one big melting pot."
It certainly is when the biggest rapper in America is Eminem, and he's a white guy.
"Exactly. [Black comedian] Chris Rock said on television the other night, 'What's happening to America? The top golfer is black and the top rapper is white?'
"I'm not very political and I'm just thankful I can get up and do what I want to. Can you imagine, you walk on stage and accompany Tony Bennett? That's an extraordinary feeling and every night I'm challenged."