Graham Reid | | <1 min read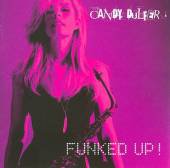 Consumer law revolves on the principle of "fitness for purpose" and you won't catch this saxophonist out on that score: this double disc is as it says on the cover, one disc of funked up and the other of . . .
Well, it's all very Seventies however and "funked up" means disco-flavoured cuts and the "chilled out" isn't so much chill-out room music but sultry soul-seduction music which has more in common with Lite Breeze FM or whatever those LA "jazz" radio stations are calling themselves these days.
It's all astonishingly ordinary and Dutch altoist Dulfer -- who I once took reasonably seriously, but that was at the dawn of the Nineties when her Saxuality debut seemed impressive and she was knocking about with the likes of Prince and Pink Floyd -- seems to have settled for quite a lot less than she is capable of.
Her energies seem to have gone into the funky and seductive album cover photos.