Graham Reid | | 2 min read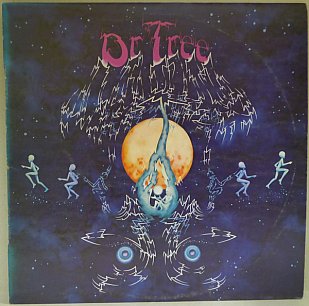 When this album came out in the mid-Seventies jazz-rock fusion was at its peak and many otherwise sensible jazz musicians were wooed to the dark side. Few came out with any dignity (they just didn't get "rock") but Dr Tree from Auckland nailed it directly at a point where they were most comfortable; more jazz than rock because they were jazz musicians.
The album was reissued in late 2008: these are the liner notes for it which I was invited to write. . . .
Times change -- but not so much that this reissue of the classic jazz-rock album by the Auckland outfit Dr Tree doesn't still sound exciting.
Today the jazz-rock fusion of the early 70s -- hinted at by Jimi Hendrix, godfathered by Miles Davis and brought to life by Weather Report and Return to Forever -- is back in the ears of a new generation of listeners.
And they too are enjoying the possibilities of a musical adventure unfettered by styles, and of musicians prepared to take risks in ways that mainstream jazz or straight-ahead rock bands today seem to recoil from.
This Dr Tree album -- their sole release unfortunately -- may come from more than three decades ago (my vinyl copy is date 1976) but it still has the capacity to thrill.
And why shouldn't it?
Look at the roll-call of players on hand: drummer Frank Gibson; trumpeter and percussion player Kim Paterson; guitarist Martin Winch, percussion player John Banks; bassist Bob Jackson and keyboard player Murray McNabb.
And Colin Hemmingsen guests on soprano sax.
In the early 70s these were mature musicians who had been schooled in jazz and had honed their skills at literally hundreds of gigs, but they were still young enough to be as excited by the possibilities of jazz-rock fusion as their peers and mentors overseas.
So here were some of New Zealand's finest jazz musicians (then and now) bringing their collective skills to bear on adventurous music which had listeners and critics alike hailing them.
In fact, although they seem to be written out of the texts on Kiwi rock history, it is worth being reminded that Dr Tree won two major music industry awards on the release of this album: most promising group and top group performance. And they were both in the "rock" category.
Of course today we hear more jazz than rock in this music, which is understandable given who is on hand. But through Dr Tree, ventures under their own name or in other groups, these musicians made a contribution to New Zealand music in the 70s that should never be underestimated -- and most are still name-players in the local jazz scene today.
But that is now and this was then: so listen here to Martin Winch peel off an astral-flight solo in Transition or jigsaw'n'spiral his way through Affirmation; enjoy Kim Paterson's taut trumpet on his own composition Eugino D; be impressed by Frank Gibson's deft and driving drumming everywhere, but particularly on his own One For Dianne; smile to yourself at the hard-won musical intuition Murray McNabb brings to this set . . .
For two years Dr Tree soared across the jazz-rock world in New Zealand then the main-players went their own ways, always influencing, always making memorable music. Recognition of the comet-like career of Dr Tree is long overdue.
Let's hope the reissue of this innovative album -- award-winning we remind ourselves -- affords Dr Tree and its individual members the attention and respect they deserve.
Times may have changed, but not so much we can't hear today what a great band Dr Tree were.