Graham Reid | | 1 min read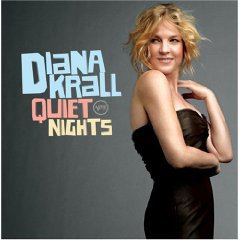 Popular though she might be, Canadian Krall (interview here) has been considered something of a lightweight jazz chanteuse and it has perhaps only been live when her piano playing comes into its own. But her 2004 album Girl in the Other Room (many of the lyrics co-written with her new husband Elvis Costello) was a great leap forward into more demanding material.
On a first listen to this album however, some might suggest her settled state and motherhood (twins with Costello) has meant she has pulled back to type: this is an orchestrated collection of soft standards in bossa and samba style, arranged and conducted by Claus Ogerman (who worked with Sinatra and Jobim).
But a closer listen allows you to hear the dexterity (albeit within a deliberately constrained range) she brings to the delivery: understatement is her forte by inclination but here she also pours meaning into otherwise threadbare standards such as I've Grown Accustomed to His Face, twists the melody of Walk On By to her own ends a world away from Dusty Springfield's pop version, and sits right in behind the music on the title track. She even does well with the gender flip on The Boy From Ipanema.
The extra tracks include a nice treatment of the Bee Gees' How Can You Mend A Broken Heart, and a slightly detached Every Time We Say Goodbye.
The title tells you all you need to know really: this is music for quiet nights at home (possibly after the twins have been put to bed, Alison and El?) but that doesn't diminish its subtlety and maturity. And while Este Seu Solar and So Nice let the side down, the warm bed of strings coupled with Krall in whisper mood and languid piano playing mean this shapes up a lot better than first impressions might suggest.
Not an essential album but very pleasant indeed, although it would have been better to hear her advance a little on Girl in the Other Room. Next time?