Graham Reid | | 2 min read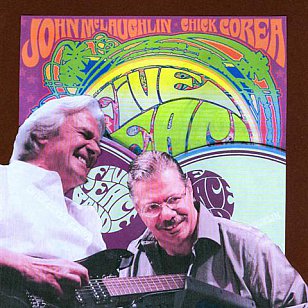 When Chick Corea and John McLaughlin's Five Peace band played in Auckland in February of 2009, I noted these players – in the vanguard of jazz fusion in the 70s – had re-invented it for a new audience: gone were the faster-than-thou solos which guitarist McLaughlin once inflicted (notably with his intense Mahavishnu Orchestra) but also by engaging in genuine musical dialogue of the kind that old fusion rarely did.
Fusion in the 70s was mostly about the soloist, your band mates would get their chance soon enough (although for many of us it never came soon enough).
But we're all older, possibly wider and maybe a little less self-absorbed, and these musicians – in an art which is about self-absorption and self-expression – employed a spirit of generosity.
The double album Five Peace Band Live captures much of that esprit de corps of keyboard player Corea, McLaughlin, saxophonist Kenny Garrett, bassist Christian McBride and drummer Vinnie Colaiuta (who played in New Zealand with Jeff Beck but was replaced in this band for the Australasian tour by the astonishing Brian Blade).
Taken from concerts on the 2008 European tour they essay a similar set to what they delivered in Auckland with sometimes blinding brilliance.
Corea and McLaughlin go way back – they met on Miles Davis' sessions for the In A Silent Way album in '68 – but in the intervening years hadn't played that much together. McLaughlin says the band was Corea's idea, both pour praise on the other in interviews and the album's liner notes – but the other musicians, Garrett particularly, get plenty of space too.
The opener Raju sets the tone: McLaughlin lays down sharp-edged chords while Corea finds some weirdly wobbling notes on electric piano, then they swap roles as the rhythms section cannons in and McLaughlin explores an ascending melodic progression with rapid flourishes. Then it falls back quietly before Corea starts a similar teasing apart of the piece.
McLaughlin's comping behind – sharp chiming chords – add substance to Corea's spiralling keyboards then Garrett enters, slowly probing before taking off on his own flight.
Each solo refers to what has preceded it and this is where the Five Peace Band work an intelligent kind of nu-fusion.
McLaughlin's New Blues Old Bruise is a 14-minute highpoint, but very different from the version played in Auckland which discreetly referred to Chicago blues: here it is more restrained until Garrett grabs it and, typically, drags it towards a more free style.
When old fellow-traveller Herbie Hancock joins them on piano for a 20 minute treatment of In a Silent Way/It's About That Time the music moves from ethereal stillness through those familiar, beautiful melodic lines which explore the theme and then soar. This is the most out-there piece on the album and as Hancock's acoustic piano and Corea's electric ride those oceanic surges from McLaughlin's repeated guitar figure and the rise and fall of McBride's bass it unleashes tremendous highly-focused power.
And the album goes out with a lovely fragmented version of Someday My Prince Will Come.
Two discs might be a disc too far, even for those who bayed appreciation at the concert. As I observed then, this was jazz as a visceral experience (especially when Garrett lifted the roof). I might have added, a visual experience.
One step removed and that problem with old fusion rears its head, you don't see how musicians interact other than in the hearing – and in places you'd be forgiven for only hearing that solo-space grab.
That said, here is a group of musicians who not only helped invent a genre but were among its finest practitioners. That's worth tuning in for.