Graham Reid | | 1 min read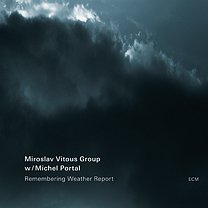 With the reunion of Chick Corea and John McLaughlin; bassist Stanley Clarke back with another trio album with pianist Hiromi and drummer Lenny White; Clarke, Corea, White and guitarist Al Di Meola returning as another Return to Forever; and other Seventies fusion artists on the trail again it looks like that whole movement has been rehabilitated.
The nu-fusion from some these people isn't as confusin' as the old fusion (see McLaughlin and Corea here), but this album lead by acoustic bassist Vitous who was a founder of Weather Report (replaced by Alphonso Johnson who was in turn replaced by the tragic Jaco Pastorius in '76) takes off in a very different direction.
This isn't the spiralling, rapid-fire, electric fusion of most practitioners but -- perhaps as expected on the ECM label -- a more quiet, considered, edgy and acoustic exploration which keeps one ear on Weather Report but equally makes its own very independent statement.
The spirit of Ornette Coleman is as evident as that of WR's Wayne Shorter and late Zawinul, not just in their Variations on Lonely Woman but in the playing of tenor man Gary Campbell and trumpeter Franco Ambrossetti. Drummer Gerald Cleaver is tangential and discreetly exciting, driving when necessary; and guest on bass clarinet Michel Portal might as well be part of the group as he is integral to this innovative music.
The music also refers to Slavic folk (one lively piece is When Dvorak Meets Miles) but everywhere Vitous' playing -- melodic runs, strident or sensitive arco -- is the glue.
Don't come here if you are expecting a straight tribute album to Weather Report, but certainly sign up if the idea of inventive, mutually appreciative but never indulgent, hard-edge improvised music is your thing.