Graham Reid | | 2 min read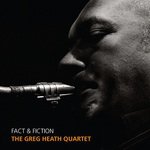 Saxophonist Greg Heath has been in London for two decades now, so you'd have to have a long memory to recall him alongside Rick Bryant in the early 80s as a member of The Neighbours – a band with a revolving door membership anyway.

In '84 Heath picked up a grant to study at the New South Wales Conservatorium (where another expat jazz musician Mike Nock has had a long teaching residency), was tutored there by trumpeter James Morrison and woodwind player Don Burrows, then took off for London.

No one would say he'd had it easy over there making his way as a musician (does anyone from the Antipodes?) but someone who is the co-founder and musical director of a successful cabaret evening called The Flash Monkey Presents Burlesque Bazaar (and The Flash Monkey Presents Cabaret Casbah) is obviously having some kinda fun.

Heath has a serious side too of course, as you'd expect from someone who cites John Coltrane, Mike Nock and Joe Henderson as the first three influences on his My Space page.

The Coltrane connection is apparent from the incendiary yet melodic kick-off track on his debut album Fact & Fiction with his excellent quartet of pianist John Donaldson, drummer Lawrence Lowe and bassist Nick Kacal.

No Time to Reason, one of five originals on the album, makes an immediate statement of intent: his saxophone coils and springs, dives hard and headlong into the tune, bops across the top of the energetic rhythm section and finds spiralling rushes of notes which seem to pour out of him.

As an opening track on a debut album it is not only an attention-getter but an impressive piece of playing and composition which also allows pianist Donaldson (who studied with Henderson in the early 80s, recently picked up a British Jazz Award and helms his own trio independent of this group) a chance to shine.

Elsewhere on the album Heath also pulls back for some beautifully contemplative work, notably on his midnight-blue tribute to the late Auckland bassist Andy Brown which eases out to a leisurely and emotional 11 minutes. It is a gorgeous piece and sits at the far end of the spectrum from that fiery opener.

That Heath has such an emotional and technical range comes as no surprise when you consider the breadth of his work in London. He's played alongside legendary British guitarists Jim Mullen (who co-founded the acclaimed Morrissey-Mullen jazz-funk band with saxophonist Dick Morrissey in the 80s) and John Etheridge in the jazz world, and has toured with or been on sessions for Van Morrison, James Hunter, Stereo MCs, Terence Trent D'Arby (remember him?), Joan Armatrading and others. He's also toured and recorded in the Middle East with Iraqi-born guitarist Ilham al Madfai.

Typical Kiwi in London, he can turn his hand to anything, right?

Heath does get back to New Zealand occasionally – nothing on the horizon right now – but my feeling is that this impressive album will keep him working in London for a long time to come.

He is squarely in the bop idiom with a confidence that is palpable on the title track to this debut which is grounded in classic 60s territory. In the jazz world this is the kind of music that never falls from favour or is at the whim of fashion.

It is also a difficult idiom as it demands an emotional intelligence as much as technical facility, and the evidence on Fact & Fiction is that Heath – to be counted among the best in that growing list of our jazz exports – has that in abundance.