Graham Reid | | <1 min read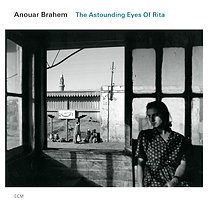 The previous album posted at Elsewhere by this oud player, Le Voyage de Sahar, was one of the best in his long career and -- as with Le pas du chat noir of 2002 -- confirmed that he was craeting his own genre, a kind of Middle Eastern chamber jazz for oud, piano and accordion.
There was a cool stillness about Le Voyage de Sahar and that mood carries over into this album with a very different line-up.
Here Brahem's oud reaches for the lower and quieter end of the spectrum alongside the woody bass clarinet of Klaus Gesing who brings an exotic stateliness to the slow movements of these pieces. Although there is percussion and bass, there is a feeling of weightlessness here as the oud and clarinet gently lift off and make delicate explorations which frequently sound almost tentative.
This is music which sounds suspended in the spheres and unlike much other oud music at Elsewhere which can be vibrant and vigorous, this conjures up those moments between sleep and waking when the mind drifts.
Not quite the hands down winner that the previous albums mentioned have been, but Brahem once again offers music which is beguiling and singular.