Graham Reid | | <1 min read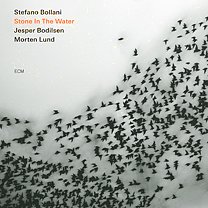 After the superb duet album The Third Man with trumpeter Enrico Rava, this one by pianist Bollani (with bassist Jesper Bodilsen and drummer Morten Lund) was always going to attract the attention of Elsewhere.
But while this is beautifully realised piano trio work -- sensitive, considered, quiet and often quite elegant -- it rarely excites, takes the listener in an unexpected or unfamiliar direction, or adds much to the long tradition of such albums, on ECM Records or elsewhere.
Bollani here proves himself an intelligent, never willfully academic or intellectual player whose keen sensibilities have a slightly romantic inclination, but there is rarely any frisson of adventure or excitement, and while some material (Il cervello del pavone) stretches out this is a fairly well worn path.
That said, if mostly poised and only occasionally muscular playing is your thing, then Bollani and his peers here certainly deliver that.