Graham Reid | | <1 min read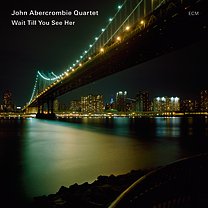 For the first two-thirds of this album featuring guitarist Abercrombie, violinist Mark Feldman, bassist Thomas Morgan and drummer Joey Baron, the more vigorous emotions are kept in check: the tunes breeze by on Abercrombie's fluid and smooth, warm tone, Feldman offers the barests of suggestions of gypsy violin (and its attendant humours) -- and then on Out of Towner the finger-snap grooves come in, Baron (often a fiery drummer) kicks the tempo along and everything really starts to hum.
But there are plenty of times when you wish for just that little more obvious energy these players possess: the final piece Chic of Araby is also a highlight as Abercrombie plugs in to his inner Bill Frisell for some seductively hypnotic playing which is woozy and sounds slightly stoned.
Not to say that all which has preceded these two final tracks has been bloodless, quite the opposite: the music is refined but heartfelt (their treatment of the Rogers and Hart title track is deft, gentle and quite lovely).
But for longtime Abercrombie listeners, while this will confirm their good opinion of the man, there may be a sense that it is all too late by the time that final third comes to life.

Abercrombie has been one the great quiet presences on the ECM label (along with Terje Rypdal) and his playing relationship with Feldman has previously been highly profitable.
But this time round even loyalists may feel they are learning little new from their man.