Graham Reid | | 1 min read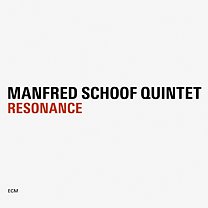 Here is further proof that the past is a different country: this double disc pulls together tracks from Schoof albums of the mid to late Seventies when the contract of jazz was very different.
These days -- with only a few rare exceptions -- jazz has retreated from the barricades and most of it is conservative, backward looking or so grounded in its own sense of self-worth that it is hardly interesting let alone exciting.
Trumpeter/flugel player Schoof led a band which attempted to bring all kinds of disparate elements into a coherent context: they made reference to Fifties Miles Davis, free playing, the European classical traditions, evocative soundtracks, atonality alongside Weather Report-styled ambience on synthesizers (Rainer Bruninghaus), and much more.
It was, of course, very "European" in style which is why the original albums Scales ('76), Light Lines ('78) and Horizons ('80) appeared on the JAPO imprint on ECM.
Yet curiously -- and perhaps because so much current jazz isn't especially interesting -- this still sounds remarkably innovative and in places courageous as the mood shift from Bruninghaus' washes of synth to Michel Pitz' brooding bass clarinet or Schoof's squirreling trumpet work which skitters like Miles on meth before Jasper van't Hof's electric piano takes us into a kind of Euro-fusion.
This was ambitious music (Schoof and Pilz were both also in the Globe Unity Orchestra which had a similarly inclusive policy) but its historic, pioneering quality doesn't overshadow the sheer enjoyment.
Complied by Schoof, this double disc is a very welcome reissue and throws a spotlight on both the period and the players.