Graham Reid | | <1 min read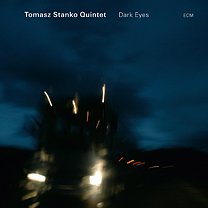 Polish trumpeter Stanko has been introduced previously at Elsewhere on the ocassion of his excellent Lontano album.
Here with yet another line-up he essays some slightly sombre territory (The Dark Eyes of Martha Hirsch, Krzysztof Komeda's Dirge For Europe) with a kind of European stateliness which isn't quite as emotionally gripping as some of his previous work. That said, these pieces also have a haunting (and haunted) quality and when married to his early Sixties-Miles Davis tone they can shimmer with great beauty.
The playing is excellent and you long to hear guitarist Jakob Bro out on his own, he sits neatly in that area of John Abercrombie.
But artistic though this may be, it generally fails to ignite in the way Stanko usually does. One for his followers certainly, but it isn't the best place to start on this fine trumpeter, or the groups he helms.