Graham Reid | | 3 min read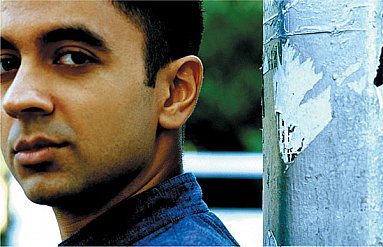 Among the many things Wynton Marsalis learned from Miles Davis was this: never undersell yourself. If you know you're a genius just say so. If you know the past and future of jazz just tell people you do. Don't hold back, put yourself in the lineage, come off arrogant if need be.

What Wynton didn't learn was to say "and fuck you all".

He went for the grand sweep, using admittedly articulate but often condescending and high-falutin' phrases.

Some of that jawboning has rubbed off pianist Vijay Iyer whose previous albums have titles such as Panoptic Modes, Blood Sutra and Reimagining.

His new one is Historicity and the liner notes start with a quote from Antonio Gramsci's Prison Notebooks and define "historicity" for you when he's explaining how his trio (bassist Stephan Crump, drummer Marcus Gilmore) were taking on "pre-existing works" by the likes of Andrew Hill, Julius Hemphill, Stevie Wonder and others -- including Bernstein and Sondheim (Somewhere from West Side Story) and MIA.

He also says "our music draws influence from the musical traditions of South Asia, Africa, and their diasporas (the Brown and Black Atlantic); perceptual illusions, mathematical equalities, and physical resonances; and everyday life of transcultural New York City".

Well, most of that doesn't stand serious scrutiny and is of the "bullshit baffles brains" ethos. If not the Miles/Wynton yap'n'yabber.

Word, words, words . . .

Fortunately Iyer doesn't write lyrics. He plays muscular, sometimes athletically funky and aggressive piano, and pulls from Thelonious Monk and Alice Coltrane, plus a smidgen (but never so much to be off-putting) of Cecil Taylor.

But there's nothing new in that. That's in the nature of jazz that you draw from the past, if not the geography of that global-outreach he claims.

When it comes to awards American-born Iyer is a serial collector: a repeat recipient in Downbeat magazine (International Critics' Poll, Rising Star Jazz Artist, Rising Star Composer, and Rising Star Pianist); a cover boy on Downbeat and Jazzwise in '08; picking up so many awards, fellowships and grants that the notoriously underpaid jazz job must seem sweet'n'easy to him; and playing alongside greats like Roscoe Mitchell, Wadada Leo Smith, Amina Claudine Myers, and Oliver Lake (among others), and part of the even more hip set with DJ Spooky, John Zorn, Karsh Kale . . .

Iyer (BSc in maths and physics from Yale; MPh and an interdisciplinary PhD in Technology and the Arts from Berkeley) seems like the kinda guy you wouldn't wasn't to argue music, or particle theory, with.

But at the far end of the world all we have are the artefacts and, much as you might want to be cynical, Historicity is impressive.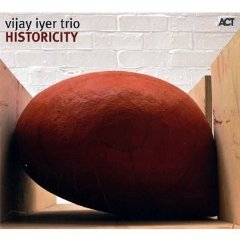 Their gutsy treatment of Andrew Hill's Smoke Stack is propelled by Crump'n'Gilmore's inventive low thump (Gilmore flicking off terrific and tight solo work); Iyer's own ballad Trident 2010 is an increasingly abstract piece teased out and reconstructed over its nine minutes; and they take Somewhere apart in a version which staggers the melody behind the bubbling beat so it feels disconcerting and on the verge of a nervous breakdown yet holding on by its melodic fingertips.

Their most ambitious piece is a nine minute workout on saxophonist Hemphill's Dogon AD from his alarmingly brilliant '72 album of the same name: Crump's dark arco work -- everywhere here in fact -- is superb; and Iyer and Gilmore intuitively connect to the abstract Afro-centric nature of the piece.

Iyer may not be name that is familiar (unless you follow jazz awards) but there is no doubt that behind the rhetoric -- from him and others -- there really is something very exciting going on here.

Historicity speaking, of course.