Graham Reid | | <1 min read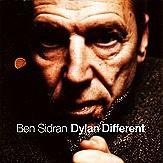 There's no shortage of Dylan tribute albums but this is certainly different: pianist-singer Sidran takes his lowkey, jazzy speak-sing style to Dylan songs in the company of a small band and guests (among them Georgie Fame).

It doesn't always work: he strips the menace and meaning out of Everything is Broken, Highway 61 Revisited and Ballad of Thin Man, but on Rainy Day Woman ("everybody must get stoned") and Maggie's Farm there's slinky quality which works.

Knocking on Heaven's Door has a strange, sad nightclub quality in Jorge Drexler's slightly quivering and high vocals, Sidran brings a sharp funk to Subterranean Homesick Blues, and All I Really Want to Do is like a Beat poem.

Not the best Dylan tribute among so many, but one to hear.