Graham Reid | | <1 min read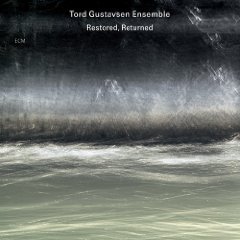 The previous album by young ECM pianist Gustavsen at Elsewhere was his trio album Being There which was named a Best of Elsewhere 2007 album.
Echoes of that group's delicate beauty and vibrant muscularity are evident in this quintet with vocalist Kristin Asbjornsen who here sings lyrics adapted from W H Auden's Another Time on four of the 11 pieces. Her slightly scuffed, blues-ballad voice -- and engaging, almost ambient sound in places -- brings an art-pop element to the album (her tracks are neatly woven between instrumentals) and saxophonist Tore Brunborg's soprano tone has some of that acerbic bite of Jan Garbarek.
This makes for an album of some welcome changes in texture and mood -- an accusation sometimes made against some ECM records is the uniformity of tone. There is even a lightly Afro-funky feel in the rhythm section on the Middle Eastern-influenced The Gaze.
So here is a rarity in the ECM catalogue, an album that engages the heart and feet as much as the head.
Tord Gustavsen has proven again he is one of the new generation of European musicians to really listen out for.