Graham Reid | | 1 min read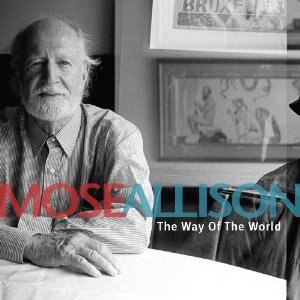 Mose Allison is one of those slightly obscure figures whose name is often heard in interviews with the likes of Van Morrison and Elvis Costello -- and he was also the subject of a song by the Pixies.
Way back he also wrote Young Man Blues (covered famously by the Who) and Parchman Farm (covered notoriously by Blue Cheer), and the Clash did a version of his Look Here on Sandinista.
But don't let any of that fool you: Allison isn't a rocker, he's a piano-blues jazz man with a wry lyrical sensibility (the ways and woes of the world delivered with humour) and he is 82.
He also hadn't recorded an album in 12 years until Joe Henry sweet-talked him back into the studio on the promise of fun with a small band, and they got this very amusing album -- shot through with exceptional piano playing -- in just five days.
Oddly enough an archetypal Allison song here is actually from the pen of Loudon Wainwright, his droll anti-blues blues song I'm Alright: "Woke up this mornin', didn't feel that bad, last night was not the worst I'd ever had . . . I didn't miss you baby, no matter what you think, I didn't moan, I didn't cry . . . I'm alright without you".
And on the upbeat opener he notes, "My brain is always tickin' . . . as long as I am alive and kickin' "
So here are dry lyrics and his effortless delivery which seems unchanged down the decades (cf the sample track with the clip below from 21 years ago) -- but the real oil is in his stride-cum-boogie woogie piano, and the snappy and understated band which includes Emmylou Harris guitarist Greg Leisz.
There are more than sly smiles to be had however: on the title track he reflects on the death watch we are all on, and age and distance allow him to smile about his failures and lost love in a way that someone a quarter his age would take much more seriously.
But that too is the way of the world.
Unexpected -- but good stuff as expected from the great Mose Allison.