Graham Reid | | 1 min read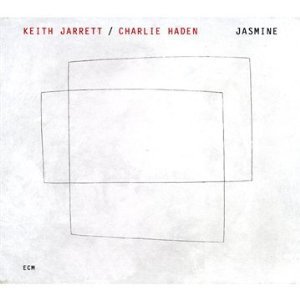 Here is a rare one: this is Elsewhere regular, Keith Jarrett's first recording outside of his trio in . . . well, it almost seems like forever. And his choice of companion is the great bassist Charlie Haden with whom he hadn't played in over three deacdes. If you want a piano-bass duet album, why not have the best?
And these two are the best.
These eight, carefully measured pieces find Jarrett (again) in the realm of standards (Body and Soul, Gordon Jenkins' Goodbye, Don't Ever Leave Me, Where Can I Go Without You among them) and so the mood is one of (mostly) slow and sensitive exploration of the kind we have come to expect of Jarrett since his career turning point The Melody At Night, With You in '99 (an exceptional album, see here).
So, no surprises then?
Well yes. Here Jarrett sounds more consciously authoritative than he has been on some recent albums, a more forceful --- but never forced -- tone coming through in places (the pronounced swing on No Moon At All, the deft work on Body and Soul) and he makes a rare foray into contemporary music with a beautifully melancholy treatment of Joe Sample and Will Jennings' One Day I'll Fly Away. With Haden, it becomes a new standard.
Haden for his part comes with same intuitive sensitivity that you might expect (the soft solo on Where Can I Go Without You, his romanticism everywhere) and although in the liner notes Jarrett suggests they (he mostly?) wrestled for three years with what to include from sessions recorded in his home studio there is no sense of struggle here at all.
Listen to Jarrett's elegant intro to I'm Gonna Laugh You Right Out of My Life before they take the mood down to explore the tune note-by-note, moment-by-moment. Outstanding.
This is music flowing equally and sympathetically from two of the finest players in contemporary jazz, and finds them in a romantic but not sentimental frame of mind.
You'd love to hear what was left on the cutting room floor.