Graham Reid | | 3 min read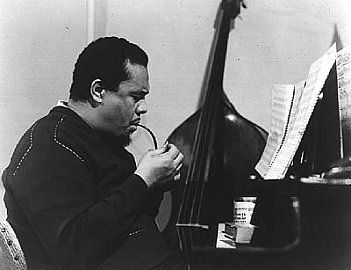 By the time Charles Mingus died in 1979 at 56, most of the obituaries had already been prepared. Mingus, suffering the increasingly debilitating Lou Gehrig's disease, hadn't been able to walk or play bass in a year, and things just got worse.
When told of his passing, the bassist Charlie Haden said, "Charles Mingus was one of those rare human beings who created his own musical language. He dedicated his life to creative thought and expression."
Dizzy Gillespie said, "Mingus' tunes were sort of uniquely . . . Mingus. It's not like he was out there writing for everybody. He was more personal than that. He was immensely gifted as a writer, and he was just as gifted as a musician."
Those gifts, and that creation of his own musical language, were evident to many when he arrrived in New York in '51. By that time he'd already played bass with Louis Armstong and Kid Ory in the Forties, and was in the vanguard of bebop with Lionel Hampton and some dates with Charlie Parker.
That reach across the jazz generations came through in his music which drew on a deep well.
But with his album Pithecanthropus Erectus, recorded on a single day in February '56, Mingus delivered his first breathtaking statement.
"One of the truly great modern jazz albums," says Richard Cook and Brian Morton's Penguin Guide to Jazz on CD while noting it was underrated at the time. "[It] is now recognised as an important step in the direction of a new, freer synthesis of jazz".
The title track alone "provides a catalogue of Mingus innovations" wrote Bob Blumenthal in Rolling Stone in '79. "The symmetrical chord sequences that dominated earlier jazz are replaced by what Mingus called 'extended forms'; a long self-generating structure of pedal points, scales and bebop harmonies that offer expanded melodic and textural possibilities. The tempo ebbs and flows like the pulse of a living organism."
There are parts of this multi-faceted piece which anticipated the free jazz of Ornette Coleman and others.
The album also contains A Foggy Day -- and Mingus was quick to point out in his thoughtful and helpful liner notes that this was not about London town (which he didn't know) but an evocation of San Francisco: in it he uses whistles, shouts and found sounds to evoke the ferries being guided through the fog by horns, the whistle of a tram conductor, the creaking of the docks . . .
Profile of Jackie (to and for alto saxophonist Jackie McLean who was on the session) is simply a beautiful poem for saxophone with Mingus playing a moody counter-melody.
The album was the first appearance of what Mingus called his Jazz Workshop, an idea he had lifted from classical workshops but given his own bent: he established a small ensemble of players to write for (much like Ellington wrote for the voices in his bands) and ran them ruthlessly. But he got what he wanted: the music he wrote being found within the musicians themselves who brought their own tones and strengths.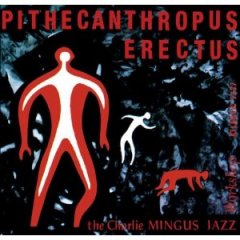 His ensemble here also included tenor player JR Monterose, pianist Mal Waldron and drummer Willie Jones.
As Nat Hentoff noted in his Rolling Stone obit: "No one ever lead a group the way Mingus did. Ellington was nonpareil for what he wanted: he wrote for the strengths of his players. But Mingus did not protect his sidemen. He refused to let them play familiar licks, insisting that they keep growing and stretching themselves as far as they could on their instruments, and then some more."
Not everyone could take it -- McLean and Mingus had a physical fight, not the only one Mingus was involved in with his players -- but he commanded respect and an impressive line-up of players passed through his bands: Eric Dolphy, Charlie Mariano, Booker Ervin, Don Pullen, Hamiet Bluiett and others.
"I write the compositions," Mingus once said, "but only on mental score paper. I then lay out the compositions part by part to the musicians."
But if the players then put themselves into this music, Gillespie was still right: "Mingus' tunes were sort of uniquely . . . Mingus."
NB: The reissued and remastered CD edition of Pithecanthropus Erectus (pictured) retails at NZ$10 and come with Mingus' original liner notes. See also the amazon.com link. A jazz classic on the cheap.