Graham Reid | | 1 min read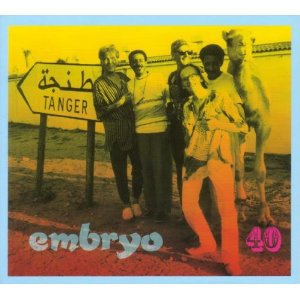 Might as well confess, until a fortnight ago I had never heard of Embryo at any point in their 40 year career -- but they are already well on their way to becoming my new favourite German jazz-rock ensemble.
From my reading of the impressive booklet which comes with this double disc they should have been across everyone's sightlines at some stage: they played straight after Hendrix at his final concert; were the first Kraut-rock band to play a major festival in Britain (Reading in '73); played with jazz musicians such as Mal Waldron; spent time with Fela in Nigeria and Ravi Shankar in India; have had over 400 musicians pass through their ranks (which makes the Chills seems stable); they toured in Morocco; brought Trilok Gurtu to the West; Nick McCarthy of Franz Ferdinand was in the band when he was studying in Germany; they have most recently played with NYC underground rockers No Neck Blues Band; seem to have been on the road or performing in most parts of the planet for the past four decades . . .
This loosely chronological collection brings together 28 rare tracks (rare? I guess so given how little I knew) and charts a journey from slightly pro-rock through the wonderful Morocco with Mal Waldron (Embryo mainstay Christian Burchard is a drummer who plays mean vibes also) then into India with altoist Charlie Mariano on the experimental Ticket to India with extraordinary guitar by Roman Buka, and later a sarod player Kenneth Wells from Canada who they discoverd busking in a tube station in Munich, as well as Indian ensembles in Bombay and Calcutta.
Then there is music influenced by their experiences in Morocco, flamenco (with Chris Karrer who was in a version of Amon Duul), Yoruban sounds picked up in Lagos . . .
This is an extraordinary travelogue in sound made all the more fascinating by the sheer diversity (and alarmingly high standard) of music on display. Some of this stretches right out (Ticket to India is a compelling 11-plus minutes) and other have an almost pop economy.
Quite a discovery.