Graham Reid | | <1 min read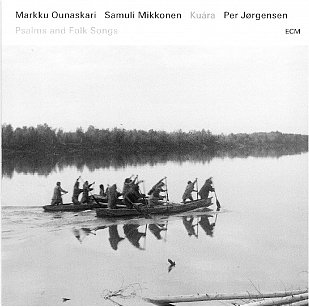 Unfamiliar names, but this trumpet, piano and drum trio deliver an always interesting and often impressive line in meditative mood music which steps lightly between the most refined Miles Davis, contemporary classical and ambient world music.
In places Per Jorgensen's trumpet sounds strangely discordant as it conjures up a primitive horn (the Baltic folk song Tuuin Tuuin), Samuli Mikkonen's piano playing can be oceanic in its surges (Aaliot), and the vocals on Soldat Keljangur -- a folk tune -- do seem a little intrusive and surplus in this company. Yet on repeat play they work in the context of the piece, if not the album as a whole.
But all are fine players (drummer is Markku Ounaskari) and the overall impression is of a remote, romantically frosty northern Europe outside the window in some eternal twilight.