Graham Reid | | 5 min read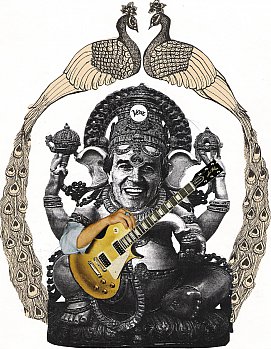 The opening track on guitarist John McLaughlin's Live in Paris, usefully serves as a microcosm of his career. It starts slow, melodic and considered with McLaughlin peeling off memorable phrases, then picks up speed to hit a furious pace as he skitters around the fret-board like ferret freebasing.

Things then cut back to irresistible refinement as it gathers in its melodic sharpness again, and seems at ease with itself as it lopes comfortably home.

Yep, that's about the career-so-far of 68 year old McLaughlin.

McLaughlin came to wide attention when he played on Miles Davis' seminal In a Silent Way and Bitches Brew albums in the late Sixties. And then he became the greatest living exponent of jazz-fusion when he formed the Mahavishnu Orchestra, which was, to be blunt, as revolutionary as it was sometimes unmitigated shit.

With McLaughlin's incendiary guitar leading the way, MO redefined the parameters of jazz-fusion which Davis had laid down -- but it also introduced the word 'migraine' to the jazz vocabulary.

McLaughlin and violinist Jerry Goodman could not only play faster than anyone on the planet, night after night they seemed determined to prove it. And the most scary thing? These guys weren't cracked-up to the frontal lobe, they were as straight as a nun in traction

That's what having a guru meant back in the early Seventies: intensity, and not much fun.

McLaughlin's subsequent group Shakti was where he started making sense and his three mid-Seventies albums under that band name plus his much under-rated Electric Guitarist album of 78 (with guests Carlos Santana and players such as Chick Corea whose careers were in jazz, not rock) were almost an apology for what went before.

McLaughlin is one of those guitarists for who the technically impossible is effortless. Fortunately – unlike Joe Satriani and Yngwie Malmsteen and those guys Guitar Player magazine keep banging on about – he came from blues/jazz and so had models and mentors along the way. The rock guys had to rely on their own pool of ideas. And look where that got them, huh?

Yorkshire-born McLaughlin's mother was a violinist, his siblings are all musical, he's mostly self-taught and studied blues players as a pre-teen.

He moved to London to play in bands and loose units alongside the likes of Clapton (who was but five years away from being proclaimed God) and, like so many of his peers, was smitten by the genius of sitar player Ravi Shankar. He became attracted to eastern philosophies and music.

His debut album Extrapolations of 69 with John Surman (saxophones), Brian Odges (bass) and Tony Oxley (drums) is considered a classic of the decade and a summation of the small group playing of the time.

It also anticipated jazz-rock fusion of the Seventies, which is doubtless why he ended up with Davis just as the great trumpeter was about to redefine jazz again, this time incorporating rock's mannerism.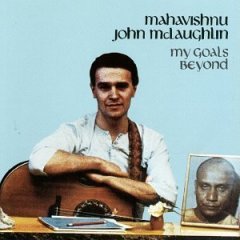 After Davis, McLaughlin took fusion to its often-illogical conclusions with the spiritually inspired Mahavishnu Orchestra. It went too fast to last and, despite reviving the concept after a brief hiatus with French violinist Jean Luc Ponty in the place of Goodman, it seemed all over bar the screaming headache.

The Orchestra did leave behind two excellent albums however, The Inner Mounting Flame and Birds of Fire, although my pick is the much more measured My Goals Beyond from 1970.

The way out of electric hot-rodding proved to be Shakti, an Indo-jazz group which had the same energy, pace and virtuosity of the MO, but which reined it in through memorable acoustic music, and allowed the guitarist (on a specially constructed instrument to explore the nuances of Indian microtones and scales.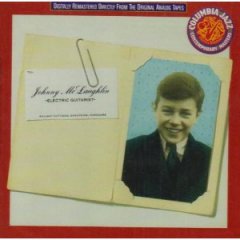 By the late Seventies he was keen to reposition himself musically and within the market: Johnny McLaughlin, Electric Guitarist -- which wittily came in a cover with a reproduction of the business card he had a kid in Yorkshire -- put him squarely back in the jazz business.

Throughout the Eighties his path was like a mature reconsideration of where he had been: he played exceptionally well received acoustic concerts with Paco De Lucia and Al Di Meola (their live One Night in San Francisco of '80 was a huge seller), played on Davis' You're Under Arrest, revived the Mahavishnu name, undertook commissions for guitar concertos, worked with tabla drummer Trilok Gurtu and then, in the early Nineties, put together an excellent trio with organist/trumpeter Joey DeFrancesco and drummer Dennis Chambers.

That was the line-up I saw in the mid-Nineties at one of those famous New York clubs. As a fan of some of his by-then almost 30 year career there were a lot of questions I wanted to hear answered.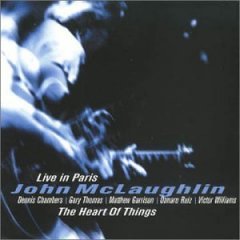 But to be honest, the big stupid one was simply, will he play really really fast?

And you couldn't help note that as the night progressed the note count was climbing.

Good ol' Johnny, if there were more to be said, he'd say it.

In one way his Live in Paris album is like Electric Guitarist and The Promise of '95 in that it too summed up and explored again various sides of his personality: a lovely ballad in Fallen Angels, intelligent fusion, and on Mother Tongues he and the small ensemble revive the best of the lightning spirit that was the Mahavishnu Orchestra. It wasn't the best album of his career but was some considerable distance from his worst.

In a way it is a small primer of a long career, but worth investigating for its own sake.

A microcosm, if you will.

And sometimes it goes really really fast.