Graham Reid | | 1 min read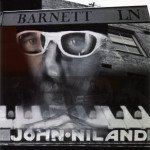 Here's a surprise: I hadn't heard of pianist Niland since his Inside album of the mid Eighties which he recorded with drummer Ross Burge and bassist Rob Mahoney in Wellington's Marmalade Studios. It was nomintaed for Jazz Album of the Year at the annual music awards (I'm sure I voted for it) and then Niland was off to Sydney.
And here he is again after al these decades.
Although this isn't a new album as such, it was recorded in Marmalade in '88 and is all solo piano which references stride and barrelhouse styles, a little Monk, a touch of Errol Garner's melodicism too.
Apparently it came out on vinyl way back but it went right past me.
Niland had quite a rep when he was in New Zealand -- the Eelman label which he briefly managed was home to the likes of Bill Lake and the Hulamen, and Niland played with the latter.
Barnett Lane of the title was the street on which Niland lived in Sydney which was bohemian and somewhat low-life by his account: the music was influenced by that seedier side of life (hence the Fats Waller/stride styles) and there is some vigorous stuff here, notably the swinging Blues in C at the midpoint which leads into the angular and ripplingly melodic Eelman Boogie.
Niland seems to have long ago sidelined his playing career for the visual arts (see here) but this is a neat snapshot of where he was at as player who could have taken his place at any battered upright in a sleazy bar and won the drinkers with his confident left hand and a right hand which played with flair but not unecessary flourish.