Graham Reid | | 1 min read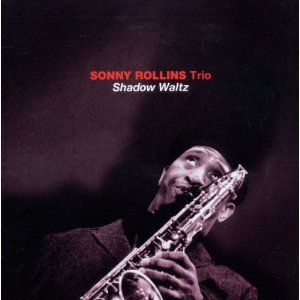 Although now 80 and still playing at the time of this writing, the problem tenor giant Rollns has faced from the Sixties onwards is that no matter how great he plays, his every accomplishment is almost invariably compared to his exceptional work between 1955 and '58. That was when he recorded Saxophone Colossus, Way Out West, the set which became A Night at the Village Vanguard and Freedom Suite.
It was quite some career high -- he was in his mid to late 20s -- and he worked with his piano-less trios which changed the way people thought of him, and of the jazz trio.
This album is somewhat deceptive: first there was never any one "Sonny Rollins Trio" as the title suggets, and Shadow Waltz was a later and less controversial title put on his politicised Freedom Suite album.
So look past those distractions and what you get is the whole '58 Freedom Suite album (the title track still a wonderful, four-part 20 minute conception) with bassist Oscar Pettiford and drummer Max Roach, then material recorded with Henry Grimes (b) and Specs Wright (d), and I'll Follow My Secret Heart with Percy Heath and Connie Kay of the Modern Jazz Quartet from the same year.
There's also his unaccompanied It Could Happen to You from '57 and a duet with drummer Philly Joe Jones on Surrey With the Fringe on Top, proof that Rollins -- who drew from show tunes, country music and pop ballads with distinction and humour -- could turn most things into spun gold in this period.
So here is Rollins in that exciting period of creativity bringing his tough sound and melodically unpredictable approach at a time when he was being looked to as the next Lester Young or Charlie Parker.
This CD -- slightly cobbled together but rising above that by sheer force of genius -- has the look of a release which Rollins might never have laid eyes on and the liner notes contain some curious phrases (bad spell check?).
Until now I had never heard of a "a posterior CD release".
Still, it's Sonny show, and Freedom Suite was one of his finest albums.
Like the sound of this? Then check out this.