Graham Reid | | <1 min read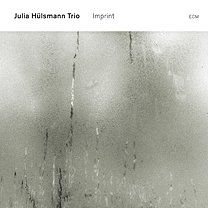 While few would deny the gentle beauty of these trio recordings (and, not incidentally, the impressive playing of drummer Heinrich Kobberling), this too often suffers the fate of some similarly-conceived ECM albums: much of it just evaporates before your ears and it is only when applying diligent listening that it gives itself up to you.
Hulsmann's compositions can be very attractive -- the tear-kissed Julia, the angular Lulu's Paradise and her quirky but swinging, Monk-like Who's Next -- but in other places they lack emotional grip.
Drummer Kobberling offers his own spare ballad Storm in a Teacup (no storm, just reflective concern) which is among the highlights for its classic Songbook quality, and someone should set lyrics to it.
So an uneven album where the best takes some time to discover.
Like to hear more ECM piano improvisations? Then try this excellent example.