Graham Reid | | 1 min read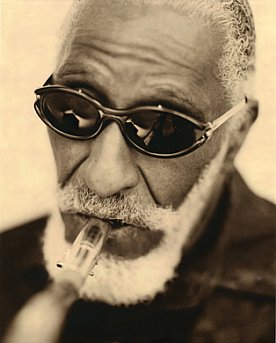 Gary Giddins, America's most authoritative jazz critic, said of tenor saxophonist Sonny Rollins that he was "one of the last immortals, the most powerful presence in jazz today. He is its most cunning, surprising, and unpredictable improviser – the one musician whose infrequent concert appearances foster intense anticipation and heated postmortems".

Giddins wrote that in 1996 and Rollins -- an old lion at 80 -- is still at large, scheduled to play in Wellington in June, and is even now picked up accolades. In 2001 he won a jazz Grammy for his album with the self-effacing title This is What I Do and three years later was given a Lifetime Achievement award. In 2006 he picked up another Grammy for Why Was I Born? on his 9/11 tribute album Without a Song – recorded just five days after the World Trade Centre fell -- and the same year won three Down Beat magazine awards.

"I stayed alive long enough that they finally had to come around to me," he laughs. "I say that because so many of my contemporaries were never really honoured properly. But I'm glad they honour me because they are honouring jazz, not me, and the great musicians I learned from. So I accept them, they're very tardy in recogising jazz."

The New York jazz world in the Fifties wasn't slow in acknowledging Theodore "Sonny" Rollins however. In his late teens he was playing alongside pianist Bud Powell and by his mid 20s – after 10 months in prison for armed robbery then methadone treatment for a heroin habit – he took to bandstands with Miles Davis, Thelonious Monk and other legends in the making . . .
This is an extract from an article which appeared in the New Zealand Listener. For the full story go here.