Graham Reid | | 4 min read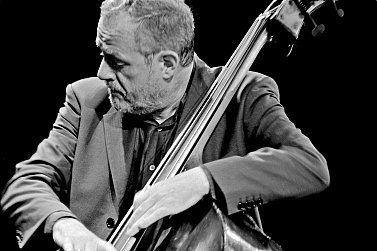 Think jazz and you invariably think the saxophone. Or trumpet. Or piano. Rarely does the acoustic bass, that pulse and often warm soul of this difficult improvised art form, come to mind.
And even if it did, who could immediately conjure up the staggeringly long name of Denmark's pre-eminent practitioner?
Yet the CV of Nils-Henning Orsted Pedersen lists performances alongside some of the greatest names in music such as Miles Davis, Sonny Rollins and Bill Evans. And he's had an association with Oscar Peterson which began almost 30 years ago.
In the world of jazz Pedersen is so well regarded his acronym - NHOP - stands as a trademark of quality.
Now 54, he can reflect on a professional playing career which began at 14 in Copenhagen and his home town, Osted. At 16 he performed and recorded with the great pianist Bud Powell, his reputation grew incrementally (Count Basie tried to hire him, job offers came regularly from the States) and he became a member of the house trio at the famous Montmartre Jazzhouse in Copenhagen where he played behind a roll call of the most famous jazz masters.
Sometimes visiting Americans would come for one concert. Others, such as saxophonists Dexter Gordon and Yusef Lateef, would stay for three months.
As he looks back on it now, Pedersen considers it all part of the essential learning experiences which make for a fully rounded jazz musician and individual. And he doesn't deny some of these jazz giants weren't especially attractive individuals.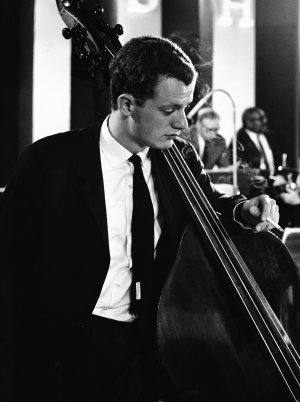 "But in a way that disciplines you. All the paranoia that [American musicians] would come over with we wouldn't buy.
"Then they would notice we were equal to any trio - and also they were in foreign territory. It wasn't like you would be joining the group of Stan Getz in the States, for example, where he was at home and wanted to intimidate you. It's a long way from New York to Copenhagen. They could try and intimidate you, but you were going home after the gig."
Pedersen says the club backing trio would often meet the touring star only on the day of the show, read through some charts together and make them comfortable.
"You learn so much from that, not just from musical experience but also to control your ego. You may feel you are a great bass player but when you play behind another musician you realise who is the boss.
"I wish younger players had that experience because you learn to be humble and acknowledge that you are not the main star, my friend."
Pedersen observes that many of the new generation, notably out of America, are signed for large recording contracts on the basis of ability and good looks, but many lack the depth of playing experience.
He notes festival bills may have a list of hot young names, "but the thing the organisers haven't thought about is whether these people can play together because in some cases they have egos the size of the Eiffel Tower and if you put them together the thing that isn't going to happen is music. Some young Americans put themselves in front of the music and it becomes an empty attitude. Some young Europeans look at them and say, 'Why not put yourself behind the music and promote that and not yourself?'
"I have had many ideas from record companies about who I should play with because it is easier to sell, but I have always taken the view that selling records is their problem, not mine."
In the past decade Pedersen has come out front and with his own highly acclaimed trio he has made the bass a front-line melodic instrument. Fully a quarter of his concerts now are with his own group.
"When you have reached my age and have my experience playing it comes to mind that maybe some day - and this is the past five or six years - you would like to do something on your own conditions. That's not to deny the quality of what I used to do but in the past I adapted to other people and tried to make them shine. I thought it was about time to use my energy on myself."
The NHOP Trio style is of a distinctively European tradition, something which he feels is important. Europe took a long time to wake up to its own musical heritage and for too long club owners and festival organisers would demur to American musicians and styles.
"But my background is as good and as strong as anybody else's. I just happen to be born and raised in Denmark. So what? Do we have to be copies of the leading bassist or pianist from America? Or do we have a voice of our own?
"I decided very early I did have my own voice. Our classical tradition is important and we still have Beethoven, Mozart, Ravel and Debussy, you name it. Doesn't that count?
"And how come the blues is the only folk lore which is valid? What about the folk I grew up with, isn't that valid to somebody? It is to me.
"This was not done in opposition to the American musicians, it was just an awakening. I'm willing to learn their language and can change into dollars from the krone, but they can't figure what a dollar is in krone. So do I have to buy everything, give up my integrity, find another place to live and perhaps speak in a certain way?"
Today Pedersen answers all his rhetorical questions on the bandstand with his trio which has drawn critical and public acclaim across the globe and for a series of recording which equally connect with the tradition of the Great American Songbook (A Nightingale Sang in Berkeley Square, Some Day My Prince Will Come) and the European jazz tradition of composers such as Norwegian saxophonist Jan Garbarek. And back home in Denmark his trio can play two sell-out tours every year and he is acknowledged by a new generation as role model and mentor.
It might look difficult on paper, but in concert and on recordings Niels-Henning Orsted Pedersen is a name easy to remember.
NHOP, a trademark of quality.
Nils-Henning Orsted Pedersen died in April 2005. He was 58.