Graham Reid | | 3 min read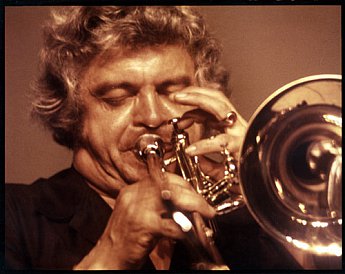 They don't make them like Maynard Ferguson any more. At 73 he's still out there on the road almost nine months a year playing his brand of gutsy, big-band jazz to audiences in small and large venues.
Yet even in the world of jazz, Ferguson is unique. At one level, he's a populist and populariser, who is known for having hit songs such as his reworking of MacArthur Park and the theme to the Sylvester Stallone movie Rocky. At another, he's an educator whose bands have been the proving ground for talents such as Wayne Shorter, Chick Corea, Joe Zawinul and many other jazz luminaries.
Ferguson has had three Grammy nominations, his set list includes funk and rock tunes arranged for his hard-hitting band, he consistently wins jazz polls yet he is frequently ignored or dismissed by many jazz critics for whom he committed the worst of jazz heresies - he became popular.
Ferguson embraced pop tunes and encouraged the young musicians and arrangers in his bands to bring in diverse ideas. Critics often say he devalued the art and suggested he wasn't to be taken as seriously as those who played standards.
"I'm not sure of that higher moral ground of some critics. As far as I know they don't attend Baptist church every Sunday," responds Ferguson. "It all depends on the content and treatment of any tune. You can get so snobby that you could say Louis Armstrong and Dixieland is old and so not have anything to do with that. But it depends on the artist and in my case I simply play the music I enjoy."
Perhaps part of Ferguson's problem is he became such a fixture in the jazz cosmos that he was taken for granted. Certainly there was a string of less-than-impressive recordings in the Seventies but as a jazz player who has brought an audience and encouraged young talent, Ferguson is without peer. And he shrugs off the negative opinions with a hearty laugh.
"You just have to do your own thing. I've had the rave reviews and those that aren't and that's because it's an art form and that's what happens. Before my medley at the end of the concert where I do some of the things from the past which have been successful I'll say, 'This is what's responsible for my incredible wealth', and of course I'm partially lying. But you must encourage the young musicians."
And he does, through clinics and tuition and, most of all, by keeping an ear out for new talent: "It's like having a baseball team when you have a band like mine. You are waiting for the music educator who calls and says they've got someone good."
Ferguson believes in the value of an academic music education but also in the "University of Bandstand". Born in Montreal, he learned piano and violin at 4, switched to trumpet at 9 and won a scholarship to the French Conservatory of Music.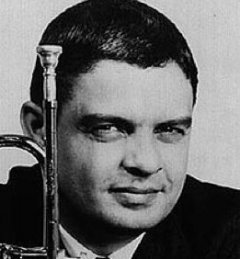 By his early teens he was leading bands which opened for the likes of Count Basie, Duke Ellington, Woody Herman and Stan Kenton. In the early Fifties he joined Kenton's big band and immediately impressed with exceptional upper-register playing.
He found work in Hollywood studios and recorded on soundtracks such as The Ten Commandments.
In the mid-Fifties he put together a big band and for a decade kept a gruelling touring and recording schedule. He largely dropped out of sight in the late Sixties and lived in Europe but re-emerged with the hit MacArthur Park. Then it was the Rocky theme, and back on the road.
"Occasionally I shake hands with my wife and children and introduce myself," he laughs. When he's not on the road he's a producer for the Concord label, or giving tuition.
"I'm a great fan of music education in the school system. We come across bands and if they didn't exist, there would be no interest in this art form in that school. But when you have the best players out of the 100-piece marching band who are the jazz fans then it's up to the music educator to encourage that.
"The era of the guy sleeping in a potato sack in winter and who has a newspaper wrapped around his cornet then suddenly jumps up and plays great jazz ... Well, I think that was great Hollywood. Bits and pieces of that myth are true, and if you're a writer it's more dramatic to write about that rather than someone who learned his craft in that most boring place of all, a school."
Ferguson's "small big band" - himself, three trumpeters, two saxes, a trombonist and a rhythm section of piano, bass and drums - contains young musicians from universities and music colleges across the States and Europe.
"I love playing with this smaller line-up. In my small band everybody plays a solo and that's because they are deserving and we have the space."
And after more than five decades on bandstands, he has the history to draw on.
Maynard Fergsuon died in 2006. He was 78.