Graham Reid | | 3 min read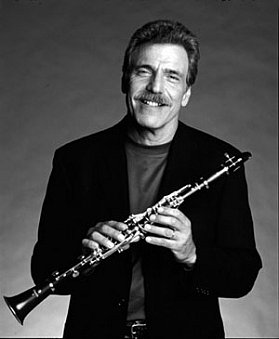 Most jazz encyclopaedias don't give much space to clarinettist, saxophonist and composer Eddie Daniels. Certainly not as much as they should.
Perhaps it's because Daniels doesn't conform to the jazz archetype of tortured artist. He is witty, smart and since graduating from New York's prestigious Julliard in 1966 has always been in work.
Maybe it's because the instrument on which he is a master - the clarinet - recalls the swing era. When bebop came along the saxophone gained prominence and the world of Benny Goodman was left behind. Yet despite the vagaries of changing styles, Daniels - now 58 and working as often as ever - adapted the sound of the clarinet into whatever came along.
He also created a symphonic setting of Vivaldi's Four Seasons for clarinet, which he has adapted as Vivaldi: The Five Seasons.
But the classical aspect is only one of many in a career that has included a stint in the Thad Jones-Mel Lewis jazz orchestra from 1966 until 1972, playing in fusion bands alongside electric guitarists during the Seventies, and adapting Goodman's music for duets, such as on his acclaimed 1992 album Benny Rides Again with vibes player Gary Burton.
On the phone from his home in Los Angeles he talks of recent projects with the National Symphony at the Kennedy Centre, a jazz concerto series with trumpeter Jon Faddis and pianist Billy Taylor, "and I've been invited to Santa Fe to play jazz clarinet with a gamelan orchestra!"
"I'm trying to figure out where to go with that one," he laughs. "I'm sipping the gamelan beer to get the taste. It's a good pairing because you have the bell-like sound of the Indonesian gamelan and then this wooden sound of the clarinet. In terms of tones coming together it could be very beautiful."
But while that is a typically unexpected digression in Daniels' acclaimed career, less surprising is him being wooed to play Goodman in a stage production, The King of Swing.
"It's a kind of a dream for me. I'll have my own big band and it'll be nice to have the clarinet out on stage with a lot of people to hear it, and to present it as it sounds today. We're looking at starting in February in Toronto then moving to Broadway."
Daniels admits Goodman was his idol when he was young but the show's producers know if they hire him they will be getting Eddie Daniels' contemporary interpretation of Goodman's music - just as he has done with Vivaldi's Four Seasons, in which he allows himself space for improvisation.
"For the concert I prepare a programme where I play a few pieces from my album Vivaldi: The Five Seasons, which features a jazz rhythm section and orchestra, and I've designed all my own arrangements so I get a lot of chance to play.
"I put myself through the wringer in terms of the gamut I play. There are strictly classical things with the orchestra which are Vivaldi's score, except it's clarinet not violin, then I go into the jazz section of arrangements of things like After You've Gone, Begin the Beguine and tunes of the swing era. Then I play with a rhythm section - some jazz quartet things.
"There will be everything I can dish out as the chef of the clarinet."
Daniels admits he was directed to rescore Vivaldi by his record company and the only time he'd heard the music was in elevators.
The idea of resetting the music for his favoured instrument scared him and it wasn't until the project was completed he realised his producer was only thinking that "I should just take a few cutesy sounds from Vivaldi and make it into a jazz record."
"But I listened and felt the only respectful way I could do it was as purely Vivaldi, and when it went into jazz Vivaldi would have loved it. That music was improvisatory music of the day. Vivaldi improvised all over that piece.
"There are sections where I am embroidering and filigreeing the way they would have done in Vivaldi's time, and sometimes it's just ornamentation and maybe bending a note, like Louis Armstrong bending the melody. It was still Mack the Knife or whatever, but it was also Louis. So I stuck to pretty much the baroque on some movements and went right into the jazz on others."
Still an avowed listener to great jazz artists like Stan Getz, Bill Evans, Ben Webster and Miles Davis, he acknowledges "whatever we like is also our own limitation."
"None of us like beer when we first taste it but when we acquire a taste we know how great it is. Everything is an acquired taste. I still like to explore tastes - and give my audience something personal.
"The most any artist can do is be sincere in the connection of the music to themselves. When a musician is one with the music, and in it, and not trying to do something that's not him, and be honest and flow with it, that's when it's at its best.
"What I like to do with an audience is talk to them and have them know me a little bit - my sense of humour and who I am. Then the music is a little more human. And if I succeed in connecting with music then the music will transmit joy.
"That's why I give them everything I've got, some classical jazz, some really beautiful Eddie with strings, then me just stretching out with a quartet.
"I'm giving everything I have, there won't be anything left of me afterwards."