Graham Reid | | 1 min read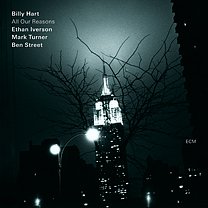 Previously Elsewhere has sympathised with those for whom jazz can be a bewildering array of names, and specifically when it comes to groups on the ECM label who seem little more than temporary coagulations of talent.
So this album which seems to appear under the name of drummer Billy Hart is just going to add to the confusion.
Initially the group was named for the pianist (Ethan Iverson from Bad Plus) and tenor player (Mark Turner) as the Iverson-Turner Quartet but reverted to "The Billy Hart Quartet" in time for a tough-minded debut album in '05, presumably because Hart was the most famous member.
And through connections -- Hart having been on ECM as far back as the early Seventies and more recently playing on Charles Lloyd albums, Turner with Enrico Rava -- they have now ended up on this label where the emphasis (for the label and the players) is on the spare, spacious and free.
Amidst passages which can feel shapeless and drift off however, the immediate standout is Tolli's Dance -- a blues-based piece notable for Hart's precision-drill passages, Turner's constrained melodic lines and the lean comping by Iverson. The languid tone has a Coltrane-lke sensibility and an economy make it leap out.
And also more straight-ahead in this company is Turner's Nigeria which has the kind of stop-start signatures of Sonny Rollins but also swings gently as bassist Ben Street and Iverson take off at a brisk walking pace.
And the airy, seven minute Wasteland is like a tone poem-cum-conversation where Turner's sax opens with what could also be based on speech patterns before Hart lays down a dark and distant pattern, the piece reconstitutes itself as a romantic ballad, the drums re-enter and the process begins again. It is quietly engrossing.
But elsewhere the centres don't hold in quite the same way so over the hour, while this is an album of exceptionally fine work, it is one to be sampled selectively.