Graham Reid | | 1 min read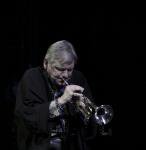 The curious thing about the career of Denmark's acclaimed jazz trumpeter Palle Mikkelborg is that after 25-years as a professional -- and at the top of his game -- he came to wide international attention only in '84 with a suite which was performed by another trumpeter.
That music, which subsequently appeared on the album Aura in '89, was played by and written in honour of Miles Davis who had been awarded Denmark's Sonning Music Prize. Over the course of the music Mikkelborg not only paid homage to Davis' style but also referred to other former prize winners in repeated motifs and patterns.
International jazz writers who had not previously heard of Mikkelborg were suddenly engaged by this trumpeter/composer/arranger whose work was referenced in the European classical traditions as much as in American jazz.
A scan of Mikkelborg's career reveals a man who stands comfortably at the crossroads of those different traditions and has played with the Gil Evans Big Band and Norwegian saxophonist Jan Garbarek, cites American composer Charles Ives as an influence, can play jazz-funk with an electric band and the classical repertoire with a string quartet.
He has played with Indian violinist L. Shankar and Welsh harp player Helen Davies, composed vocal settings of texts by William Blake and Francis of Assisi, and one of his more recent albums with the Danish Radio Jazz Orchestra is The Voice of Silence, a tribute to a Danish museum of modern art and specific works within it.
Mikkelborg - who is much honoured in his homeland - lead the DRJO to New Zealand in 2001 for a brief concert series to play his The Voice of Silence suite.
The orchestra is as acclaimed as its conductor and won repeated standing ovations during its '97 tour of Australia. Since its establishment in '64 it has produced some of the finest jazz musicians in Europe.
Over the years the orchestra has invited guest conductors and the impressive roll call includes jazz greats such as Clark Terry, Oliver Nelson, George Russell and Mary Lou Williams. Guest soloists have included Ben Webster, Dizzy Gillespie, Thad Jones . . . and of course Miles Davis for the Aura project.
Palle Mikkelborg is 71, has been playing professionally since 1960 and -- always musically curious -- is one of the few of his generation who enthusiastically and successfully embraced electronics while remaining true to his calling as a post-bop trumpeter.