Graham Reid | | <1 min read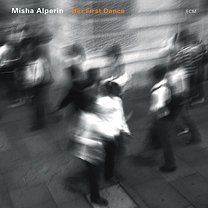 Someone who puts you on notice is ECM pianist/composer Misha Alperin who lives in that furrowed-brow world between European jazz and contemporary classical music.
There are usually few laughs to be had in his company (Ukraine-born, grew up in Moldavia, studied in Moscow, lives in Oslo, probably never seen a palm tree) and even by ECM's somewhat frosty standards his album covers are often unremittingly bleak: one of his earlier albums was entitled Waves of Sorrow.
That said, this new outing sometimes offers a rare sprightliness and has an oddly disconcerting, soundtrack-style quality where you conjure up dark alleys in chilly Venice, a walk on a bleak beach, nights at the ouija board while your spinster sister in widow's weeds plays piano in the parlour . . .
With a sympathetic cellist and a horn player this collection shifts between solo work, duets and three-handers which creates musical diversity, although it is the melancholy pieces (Tiflis, Via Dolorosa) where the pianist excels.