Graham Reid | | 5 min read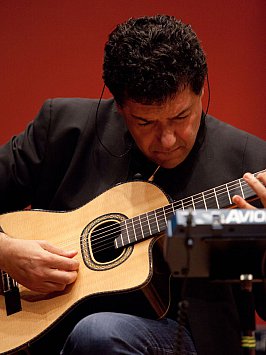 Melbourne-based guitarist Albare – born Albert Dadon – has made quite a journey through jazz. It has involved more than a few countries, time away from playing as director of the Melbourne International Jazz festival for nine years, and now being signed to the very credible Enja label.
Albare, born near Rabat in Morocco, makes his first tour to New Zealand in early April with his band (dates below) and spoke to Elsewhere about where he has been and where he's at today. He left Morocco as a child when his parents moved to Israel, then spent formative playing years in France before moving to Australia.
Now in his mid-50s, his profile is high in Australia (an Order of Australia in 2008 for services to the arts), his new album Long Way on the Enja label has been in the US jazz charts for 20 weeks, he has been selling out gigs in Europe and he was recently on a one-hour television show in Korea which had 10 million viewers.
His music is highly melodic ("if there is no sense of melody there is no point") and has invited comparisons with Wes Montgomery and George Benson.
But first we ask, was there music in the family?
My grandfather was a violin player but not my parents. They really liked music and my father in particular liked jazz, so we had jazz as a background since I was born.
What sort of jazz was that?
In those days it was Frank Sinatra, Nat King Cole and all those guys.
As a young person you gravitated to that, or were you into rock music?
There was a period in my life where my parents played that sort of music so the sound was always familiar to me. But my mother bought me a guitar when I was eight and wanted me to play classical music. But that didn't work with me, it was boring.
We moved to France when I was about 10 and around 12 I discovered the guitar meant freedom, long hair and rock'n'roll. So she wanted to take it back but I went on and played in rock bands and later it was jazz-rock, and later again it was jazz.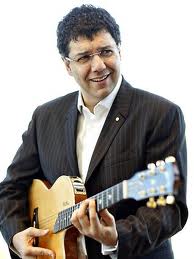 I always think jazz musicians should go through their rock band phase as it opens up another idiom because jazz can be a rarified world.
We are talking about something a long time ago for me. It's like going to a psychologist here, lie on the couch.
You were there for the whole jazz-fusion thing and were you looking to people like John McLaughlin and Al di Meola?
Yes of course, all those and others who disappeared. In the late Sixties it was always Jimi Hendrix, he left a he legacy and in Europe he was still relevant. You couldn't touch a guitar and not refer to Jimi Hendrix.
For some people jazz fusion was about more notes per second and yet others played a more fluid style.
Playing fast and fluid is not incompatible. Whether you play 16s or 32nds , as long as you are in the pocket I don't care. It has to make sense to the song you are playing. I think for the external listener maybe people listen to it as a race, but for a musician it's not that at all. Certainly people at the time were giving prizes for who was the fastest but if you were a muso you could play whatever you wanted, you could play slow as long as it made sense.
By the end of the Seventies were you moving away from that style?
I fell into funk. What I liked about funk was the groove and at some point my fellow musicians I was playing with in France were too much into the swinging thing and not enough into the dancing thing. I really wanted to have music that was really groovy. There was French band at the time Magma, fantastic band, they were fusion-jazzy and rocky and funky. The drummer Christian Vander was unbelievable and making the whole thing groove. That was really something I wanted to explore.
So in the Eighties that's where I was, then somebody in the early Nineties called this acid jazz and of course by that time I was using drum machines and DJs and rappers instead of sax players. One of them was a Maori here, Fly-T, and there are some videos of us at the time because we had a hit in Australia and stayed number one for 16 weeks in a row thanks to Triple J at the time.
We made a video hit and that genre became quite popular. But after that I fell back into the music and my first love is instrumental jazz so I went back into that and used real musos.
I know you are quite the entrepreneur and directed the Melbourne Jazz Festival. That must have been very time consuming. Did that take you away from the playing?
They were not compatible in terms of a conflict of interest. I know there are different schools of thought on this and I thought about it for a long time at the time and went with what was making me most comfortable. The most prominent example is George Wein who does the Newport Jazz Festival and he always played in his own festival. You could think that was a good example to follow, but I wasn't happy with that and wanted to completely dedicate my time to promotion and talk about others, I didn't speak about myself at al.
Around 2007 I knew I wanted to go back the music, which was not something I knew in 2001 and 2002. So it was a choice I made and dedicated myself to the festival. But around 2007 it tickled me again and by 2008 I had a good team to continue the legacy so I moved back to the stage from then.
Was it hard to go back?
No.
Your natural home?
Yes. It was a matter of deciding what I wanted to do and at that time I decided I wanted to do an album every year for the next 10 years. I've done an album a year since then and just recorded a new one in January in New York. That will be released in June in the States when I am touring, and launched in Australia and New Zealand in October/November because August/September I am in Europe and Asia.
Is that on the Enja label also? How did you meet [Enja label head] Matthias Wincklemann?
I knew of him for many years from the festival years and it was a matter of meeting and we chatted about what we were going to do and he said, 'Why don't we do a project together in New York?' So I had to write the material and I did that from June 2011 and met with him January 2012 in New York.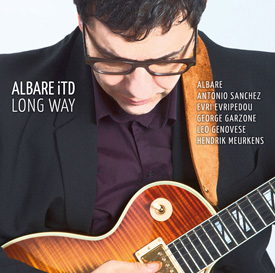 He put that band together for you, or did you know those players?
He put most together. Antonio Sanchez [drums] and Hendrik Meurkens [harmonica]. I brought along [pianist] Leo Genovese and [tenor saxist] George Garzone and Evri [Evripidou, electric bass, acoustic guitar]. I knew Leo but I'd never played with him, George I had played with before.
Hendrik is a beautiful harmonica player.
Today in the world he is the guy who comes after Toots [Thieleman]. He has the real legacy of Toots.
I heard that, but then I could hear he was doing his own thing.
He is his own guy, all of us are. If we were still following we would be teenagers.
It's a jump for you to come to New Zealand because you are not well known here.
That's why I'm coming. In the jazz world you don't wait to be known to go somewhere, if you did you wouldn't go anywhere. You need to make the first move.
ALBARE TOUR DATES
Ilott Theatre, Wellington, April 3

Herald Theatre, Auckland, April 4