Graham Reid | | <1 min read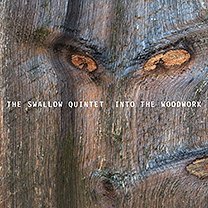 On paper, all the ingredients are in place here where the seniors - - the wonderful bassist Steve Swallow and extraordinary composer Carla Bley -- are united with the new generation: guitarist Steve Gardenas, tenor player Chris Cheek and drummer Jorge Rossy.
But here Bley -- who plays organ rather than piano -- is almost inconsequential.
So -- while this is the respectful career footnote which jazz trivia-types might want to pay attention to -- the rude fact is that this album is very ordinary.
Neither the old guard -- nor the supposedly new, and ridiculously respectful young blades -- do anything which might make an aficiondo of either school sit up, pay attention to, and/orbe impressed by.
There is some undeniably pleasant playing (especially from guitarist Gardenas) and in Still There a mischievious Bley whimsically quotes from some unusual standards. But it's disappointing to report this is mostly workmanlike and improv-by-rote.
Extra-ordinarily ordinary.