Graham Reid | | 3 min read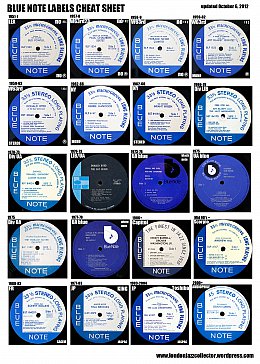 In early January 1939 Alfred Lion – a 30-year old emigre from Berlin who had moved permanently to New York just two years previous – took the boogie-woogie pianists Meade Lux Lewis and Albert Ammons into a Manhattan recording studio he'd hired for the day.
He could not have guessed that he was about to shape the future of jazz.
Lion had little idea of how to produce a recording session – he did however provide Scotch and bourbon which is a very good start – but he was smart enough to see the opportunity of letting the musicians off the leash to really play.
Although the 10'' 78rpm record was the norm, Lion was looking to release the music on the longer form but still very new format of 12'' records which allowed for solos of greater length.
Initially Lion released just two 78rpms . . . but his passion for jazz was fired up so he started his own label.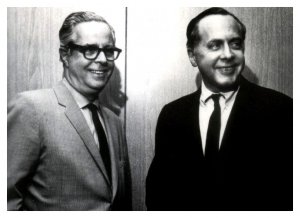 And at the end of the year his childhood friend from Germany, the photographer Frank Wolff (far right, with Lion) came to New York -- fleeing a Germany then at war -- joined him the label's tiny office on West 47th Street.
It was from here that the label – briefly interrupted for two years after 1941 when Lion was drafted – flourished, in time to record some of the greatest names in post-war jazz (among them Miles Davis, John Coltrane, Ornette Coleman, Dexter Gordon, Thelonious Monk, Sonny Rollins and dozens of others) and which would give its name to one of the most famous jazz clubs in New York.
Today that label, Blue Note, is acknowledging its 75th anniversary . . . and it has a lot to celebrate.
In the early Fifties Rudy Van Gelder became the label's in-house studio engineer and, as Richard Cook wrote in his 2001 book Blue Note Records; The Biography, "the fidelity of Blue Note's Fifties sessions sounds tied to an aesthetic of warm, analogue sound . . . Van Gelder's method was to secure a sound which respected both the timbre of the group and the singularity of the players".
Blue Note was not just a label recording jazz greats but it was great at recording them. The "Blue Note sound" became a template others would aim for.
And not only did the albums sound wonderful, they looked classy and distinctive.
Wolff was a terrific photographer who would sit in on sessions and capture the artists in full flight, or create interesting settings for them. But the employment in the mid Fifties of Reid Miles as the label's designer-in-chief – who had worked at Esquire and ironically wasn't particularly a jazz fan – was another key element in the look of the music.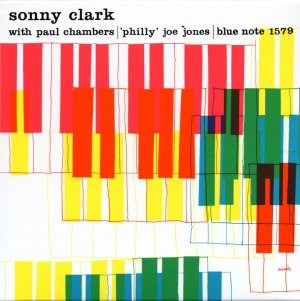 Miles' designs used powerful colours and typography (sometimes just words alone on a cover) and often severe cropping of Wolff's photos. Blue Note not only had the music, but it had the sound and the look.
At a time when album covers frequently featured a pretty girl rather than the artist, Miles flipped preconceptions and created covers that were not just strikingly different but which seemed to have a continuity of visual theme or style.
That continuum of music, sound and design set Blue Note apart and the label defined jazz for many from the mid Fifties through to Lion's retirement in 1967 when he sold the label (after ill health). The label went through some lean years, was revived by Michael Cuscuna in the early Eighties, then Bruce Lundvall (interviewed by Elsewhere here) in the Nineties who signed the likes of Norah Jones, Van Morrison and others.
Today Lundvall remains at the label as Chairman Emeritus (the first such position in a record company?) and the new president is producer Don Was (Rolling Stones, Iggy Pop etc). Blue Note continues to release jazz alongside its new roster of non-jazz artists, but for its 75th anniversary it is looking back with pride – and a reissue programme.
Starting this month Blue Note will be releasing on vinyl in batches of five at a time – through until October next year -- 100 of its classic jazz albums remastered. It is an astonishing project, but when you scan the titles (see the full list here, the first batch should be available in New Zealand around April 25) this is a label and these are artists deserving of it.

Currently there's an exhibition at the Grammy Museum in Los Angeles, a Blue Note Spotify app which was launched in 2012 and, more for fun, a new app at the label's Facebook page which lets you insert your own face into six of Reid Miles' classic covers.
Francis Wolff died in 1971, Alfred Lion in 87 and Reid Miles in 93, but Rudy Van Gelder at age 89 is still with us.
The artists they recorded, the sound they captured and the look of the albums they presented are their legacy – and jazz would not have been the same without the historic, innovative and cornerstone Blue Note label.
Yep, it's got a lot to celebrate on its diamond and gold anniversary.
For more on Blue Note artists old and new, start your Elsewhere journey here.