Graham Reid | | 3 min read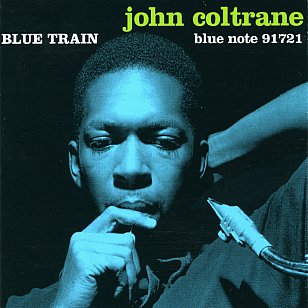 Although most of saxophonist John Coltrane's career was on Prestige and especially Impulse!, in September 1957 -- making good on a handshake promise the previous year -- he was loaned by Prestige to the Blue Note label.
This was a practice which writer William Ruhlmann noted in his '95 Goldmine article on Coltrane's career, "a no more unusual matter in the small jazz world than the loaning out of contracted movie stars between Hollywood studios in the 1940s and 1950s".
If only an actor on loan could pull out performances as important as Coltrane did however on the 15th of that month.
He'd been in for recording on September 1 as a sideman in a sextet led by pianist Sonny Clark (which appeared as Sonny's Crib) but it was the session a fortnight later which was the more significant.
On that day in Rudy Van Gelder's studio in Hackensack in New Jersey, Coltrane recorded one of his most popular albums: Blue Train. It was an album he himself in 1960 -- by which time he'd recorded Soultrane (for Prestige) and the monumental Giant Steps (Atlantic) -- rated highly.
He was just a week and a day short of his 31st birthday, had released a few album on Prestige which had secured his reputation (if not being especially outstanding), but at the time was part of Thelonious Monk's group which had a residency at the Five Spot.
So he was used to playing long sets and solos, and being pushed.
For this session he brought in the rhythm section of bassist Paul Chambers and drummer "Philly" Joe Jones (who knew Coltrane from Miles Davis' band), pianist Kenny Drew, trumpeter Lee Morgan and trombonist Curtis Fuller.
The band was allowed rehearsal time (not common at Prestige but very much the Blue Note way) and the results show in five pieces which are polished and an object lesson in early Coltrane bop.
The title track opener is a spare blues and even Richard Cook and Brian Morton's Penguin Guide to Jazz on CD (which mostly dismisses the album as "a perfect example of the Blue Note effect, an over-valued record which bathes in the cachet of what turned out to be a fleeting association with the most glamorous label of the time") concedes this tune is a clasic.
"A starkly powerful blues which propels Coltrane into his first unquestionably major recorded solo," they write. "Once heard it's a sound that is not easily forgotten, at once plaintive and urgent, hard-edged but also vulnerable."
Cook emphasises this point in his book Blue Note Records; The Biography: "The opening four minutes of the record are still electrifying . . . it's a quite magisterial statement which Van Gelder captured in a sound more handsome than Coltrane had been hitherto blessed with."
If Cook and Morton are faint in their praise about the album as a whole (noting particularly that Fuller is not a proficient soloist), Blue Train has always been very popular with listeners, perhaps because some of what followed by Coltrane was a very difficult call. Blue Train remains approachable -- but not compromised -- hard bop and after the title track, two of the tunes, A Moment's Notice and exciting Lazy Bird have become jazz standards.
Some years later writer Zita Carno transcribed the Blue Train solo and presented it to Coltrane asking him to play it for her.
"I can't," he replied, "it's too difficult."
Interestingly that title track involved some studio splicing together of different takes (Drew's solo), a practice which became more common in the Sixties and beyond.
Reid Miles' gentle cropping Francis Wolff's reflective portait of Coltrane on the cover doubtless enhances the album's stature. It looks like a moody jazz album and the blue wash through it adds to that impression.
If Coltrane would go on to greater heights in subsequent years -- and he only lived another decade after this album -- then this still, despite whatever shortcomings it has, remains a rare and especially enjoyable one in his vast catalogue.

Blue Train is one of the first five albums currently reissued on vinyl to celebrate Blue Note's 75th anniversary. The other albums are Eric Dolphy's classic Out to Lunch (see review here), Art Blakey's Free For All, Wayne Shorter's Speak No Evil and Larry Young's Unity. For a full list of the 100 albums being reissued on vinyl over the next 18 months see here.