Graham Reid | | 7 min read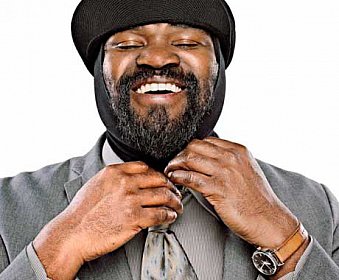 Gregory Porter is a big man with a soft voice. The former linebacker from San Diego slipped sideways into music with the assistance of a mentor Kamau Kenyatta, got a part on Broadway in the cast of It Ain't Nothin' But the Blues and recorded two albums for small labels which were both nominated for jazz Grammys.
Then in January this year he finally got the award when his debut album for Blue Note, Liquid Spirit. That saw him climb on stage to take the applause (if not the hardware, as he jokes).
Interestingly Liquid Spirit was also a nomination in the traditional r'n'b category, and that gives some hint at the breadth of his musical range.
Having grown up on gospel (his mother was a minister), Nat King Cole and Seventies soul, his music encompasses all that and more.
So Liquid Spirit might have a won a jazz award, but Porter – who writes fascinating lyrics and carries a small but classy band – has the potential to cross right into the mainstream. A song like the aching Hey Laura (see clip below) deserves a place of pop radio, and you can get a party started with the handclap title track.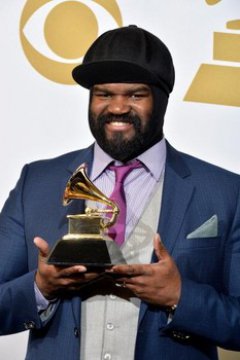 But, as we shall see, Liquid Spirit barely did any business in the US before the Grammys.
First of all congratulations on the much-deserved Grammy win. Are you still coming down from that or was the buzz gone by the following day?
I'm still quite excited, but they don't give you the hardware right away. You have to wait a few months for that.
What does a Grammy actually mean to you, is it the acknowledgement of your peers or something?
All of that, and for the direction my music has taken. I'm writing original music while still holding close to the traditions of jazz vocals. And I'm going back to the roots of some of this music in gospel and blues and soul elements. It felt like a great accomplishment.
Did you quietly say 'At last'?
(laughs ) Oh, you can't do that, it really does feel like a deep honour just the get the nomination. I remember my wife and I jumping up and down on the bed when I got the nomination the first time, so to win was icing on the cake.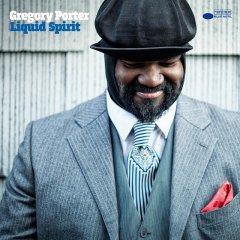 You were also nominated in the traditional r'n'b category.
Yeah, and that really speaks to my unintentional blurring of the lines of genre. These are very close musical cousins in soul, r'n'b and jazz.
I can't help but notice this album did much better in Europe than the US on release. Why do you think that was?
It's interesting and what I've learned in the UK and Germany is their musical palette's quite diverse. That may be true too in the US but in terms of media jazz, traditional r'n'b and soul music get drowned out by the enormous power the pop market has. It should have a lot of power but in different parts of the world they are more willing to accept a more organic and lowkey approach to music.
Sometimes you can see yourself better from a distance. I think the UK, Europe, Australia and New Zealand can see the US market better, that's the only thing I can think.
Now however with the Grammy and sold out shows everywhere I'm not complaining. People are finding out about me, but the majority of records I've sold have been in Europe. I was embraced by Europe before I was embraced by the US.
What does it means to you to be on a label like Blue Note?
Yeah, it's a big deal. When I first started collecting records I was looking first for those Blue Note records with those oddly hued photos on the cover which is iconic now. So it was a kind of dream which I thought was inaccessible to me.
So for you Blue Note is the label of John Coltrane rather than Norah Jones.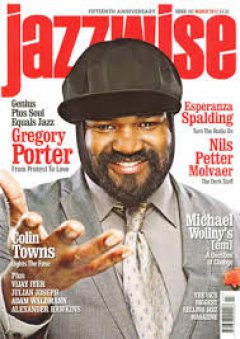 Yes (laughs). The interesting thing about the trajectory of the music is that Blue Note goes past all of the different phases of popularity, and the decline of the music in way: soul-jazz, boogaloo, hard bop and so on, all of which are under the vast umbrella of jazz, have come through the gates of Blue Note. The history of the music is there.
Was it Don Was who signed you, or was it Bruce Lundvall?

Don was coming to my gigs even before he was employed by Blue Note and he suggested to them if they were still signing people they should check me out. Somehow I'm partly responsible for him getting the job, that's the story he tells.
He called and suggested me and they asked him if he would consider running the label. Frankly I had signed with Universal France with the knowledge that Universal would be involving Blue Note so it would be a Blue Note record but the publishing deal was with Universal France.
That works out better for me in an interesting way, because I get incredible wine in the mail. I'm ruined, I can't drink cheap crap anymore.
Tell me where Kamau Kenyatta fits into the picture, he's a mentor but also co-produced Liquid Spirit with Brian Bacchus.
Kamau encouraged what was already there in a way. I had this interesting gospel upbringing and I wasn't quite sure of the value of that. We would be singing one of the great standards like Tenderly and I would put some gospel inflection on it and he though that was something unique and interesting. So he helped me cultivate the sound I had and showed me I should appreciate the roots of the musical understanding I had in the gospel church. He was really important in shining a mirror in my face.
The thing I like about the album is that none of those elements are overstated, the title track has gospel but it is subtle. They are also beautiful arrangements and the band is understated too. Let me ask you about a couple of songs in particular. Hey Laura is a story more than a song in a sense, it sounds very personal and a story that needed to be written.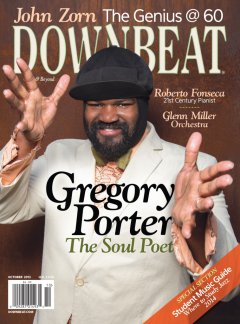 I don't approach the songs and music like, 'Let me fit an artificial story into a melody'. I like to start something from an organic place, partly from a real emotion or desire and a lot are personal stories for sure.
Water Under Bridges sounds personal too.
Yeah, that was a break-up some time ago and I have the ability to conjure those emotions I had at the time. My brother told me, 'Get over that girl' and I kept ruminating on what was and he pointed out that this bridge is burned, the water is under the bridge.
But the way you sing it feels like you have an ability to go back to that moment, and that is a rare gift.
I'm blessed in that way. I'll take it.
The track Musical Genocide slightly puzzles me, what was the genesis of that?
The story is in the bridge, I could have mentioned a whole bunch more of styles and genres and people but 'give me a blues song' as the blues is ultimate protest music, gospel with the messages of love, and 'the soul man with your heart in the palm of his hands singing his stories of love and pain'.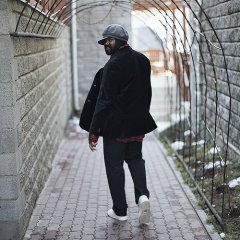 What I'm thinking of there is that Seventies music of Marvin Gaye, Donny Hathaway and Curtis Mayfield. They always made that music that had an upward vision, they talked about expanding your mind. 'People get ready there's a train comin', picking up passengers, get on board'. Messages like that.
If that music doesn't continue to exist, be cultivated and continue to be played and written then that there is a genocide of a style, sound and feeling. It's a strong word but in the human tragedy of a genocide, and the first words of the song are, 'I do not agree, it's not for me'
I do not agree with genocide, boom, there you go.
There is an almost conversational tone in your lyrics, like on that and Hey Laura. I feel I am invited in to those by those first lines. Do you feel there is a lot of negativity in much contemporary music.
Well, I'm not a critic but there is negativity, but that's part of the human experience. The thing to me is it can drown out everything else. That's what worries me. As long as there is balance. If the only message you get is one dimensional then it's too much. Too much of anything is no good, too much flowery music is not realistic as well.
Is that why you threw in The In Crowd? It sounds like 'the one for fun'n'mum'.
(laughs) I picked that once when I knew for sure it was a Blue Note record, some people get it that when Ramsey Lewis recorded that he was in between gospel, blues, soul and jazz and I think across my three records that is where I am am. So it's a homage to Ramsey Lewis in a way. When I listened that original recording I thought, 'Wow this is gospel and blues and soul' and that's where I am too.
The standard I Fall in Love Too Easily? Has that been in your repertoire for a while.
Yeah, for a little bit, maybe the last couple of years. But it has been part of my personalty for while because I do fall in love too easily. So I felt I could put some of my own emotion into it. That's how I choose standards, if I can connect to that lyrics and old story that was written in the Thirties.
It's a universal truth too.

Yeah and every song is not a homage to somebody, but I think Chet Baker's version is probably the most famous one, so the question is how do you approach it differently when there is an iconic recording.
You just have to do it your own way and internalise the music and the meaning.
.
This year Blue Note celebrates it's 75th anniversary. For more on that and Blue Note artists old and new at Elsewhere go here.
.