Graham Reid | | 1 min read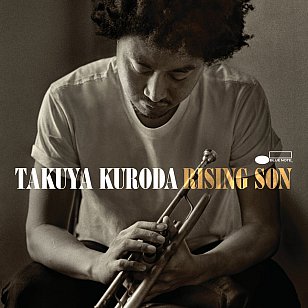 This hot'n'cool young trumpeter -- originally from Kobe, Japan but latterly of Berklee then the New School for Jazz and Contemporary Music in Manhattan -- came to attention when he appeared on albums by vocalist Jose James on the urban Brownswood label.
James, also now signed to Blue Note, produces this label debut for Kuroda and as on previous outings the trumpeter and producer walk the line between slow jazz grooves and subtle hip-hop beats with a gentle addition of lightweight street funk.
Aside from a version of Roy Ayers' Everybody Loves the Sunshine (on which James makes a smooth guest appearance) and Ayers' Green and Gold, the material here is all penned by Kuroda and essayed by his small band, including one piece daringly entitled Afro Blues.
But far being a nod to Coltrane, it is a lively percussive and Afro-centred tune (which features the exceptional guitar work of Lionel Loueke from Herbie Hancock's touring band, see concert review here). It is an acknowledgment of Akoya, the Brooklyn Afrobeat band in which the trumpeter also plays. As much as showcasing the trumpeter's attenuated lines, it is also something of a workout for Kris Bowers on Rhodes.
Elsewhere Piri Piri works from a skeletal beat and a very simple head into fusion-lite and an uneventful solo (the least interesting track) and better comes on the slow version of Green and Gold which allows for a mellow but thoughtful interpretation where Kuroda takes his time to tease out a subtle solo.

Equally thoughtful is the ballad Sometime Somewhere Somehow where he shifts onto flugelhorn alongside the trombone of Corey King (whose contributions here are worth paying attention to). Again Bowers brings home a gentle and considered solo.
As a major label debut this has the advantage of great timing -- it is Blue Note's 75th anniversary so the label is getting some attention for its new releases and reissues -- but you can't help feel that in places here Kuroda has pulled a few punches in favour of politeness.
Certainly a name to keep watching out for though.
For more on Blue Note artists old and new, the reissue programme and the art of the album covers start your reading here.