Graham Reid | | 4 min read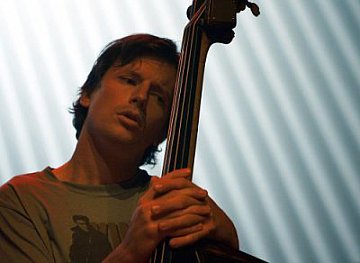 Maybe it's that trait of self-effacement many New Zealanders have, or maybe Matt Penman is just naturally modest, but his achievements these past five years would have others bannering them large.
Penman, an exceptional jazz bassist at age 27, seems almost unfazed as he speaks about recently being in Turkey, before that Russia and, oh yeah, through central Europe also, Japan a few years back, Australia earlier this year ...
Penman, at home in his Brooklyn apartment, is inclined to talk down his accomplishments since arriving in the States almost seven years ago.
In 1996 he received a TVNZ Young Achiever award, largely on the strength of his live work and precocious talent, evidenced on Urbanism which was nominated as jazz album of the year in 1994.
A scholarship to Berklee School of Music in Boston seemed to put him on his way, but Penman dropped out after nine months.
"I was a young, impulsive teenager who had no intention of graduating or wasting a minute of time," he laughs. "I just went and got work instead. Looking back now I can't remember what I was thinking, but when I got to New York it was evident this was where I had to be."
That was the end of 1995 and by his own admission he scraped a living for the first few years. He had musical contacts from Boston, played sessions around his Prospect Park neighbourhood, where many musicians live, and worked the clubs.
"I used to play whatever little dive had a band with someone passing a baseball cap. I'd sometimes play for eight or nine dollars. I went to a school here for a semester so met people that way. But I've never really been a hustler. I was fortunate to know a lot of people when I moved down from Boston."
He gradually built up contacts, was invited to play with an increasingly varied range of musicians, appears on almost 30 CDs, and almost unwittingly climbed the jazz hierarchy by being recommended by those he played with.
And it's an impressive list: Penman has worked with drummer Brian Blade who is in saxophonist Wayne Shorter's band and plays on the recent Herbie Hancock album; with acclaimed Austrian guitarist Wolfgang Muthspiel; he appears on Nnena Freelon's double-Grammy nominated album Soulcall; has an album under his own name on the Naxos Jazz label; has appeared on albums with the much acclaimed pianists Brad Meldhau and Sam Yahel who is in saxophonist Joshua Redman's band ... and so it goes. He has another album out, the post-bop The Unquiet, and he's making a buck.
"Yeah, I am. I don't have a chateau in the south of France but I make a good living. I was also lucky because right from the beginning I was touring in Europe, having met European musicians, so I'd go over there and come home with cash which sustained me. But now I've been here long enough that as soon as I get back from one of these trips, I have stuff lined up. Sometimes it's here, but sometimes out of town like Washington, Maine, Philadelphia or upstate."
And Penman is revelling in the diversity of music he can play in a city which can be merciless or indifferent, but is the one where he has to be.
"The contacts are here and 95 per cent of musicians on the jazz scene are somewhere around this city, which makes it even more difficult because more and more people come.
"Older musicians are amazed at the amount of players compared with the 70s. Back then you could be a good piano player and be known in a few months because you'd be one of only five good players. But now you have to play for five years to be noticed."
Penman has created his own opportunities and the trip to Turkey, with a four-piece band and a local trio of gypsy musicians, wasn't his first.
"I've played in Turkey four times in the last year. I'm in a band with Turkish saxophonist Ilhan Ersahin who lives in New York and this time we played big outdoor venues, one in Istanbul by the Bosporus and the other at a similar venue in Bodrum, which is like the Cote d'Azur of Turkey where all the wealthy people spend their holidays.
"We're playing a kind of crossover electronica with a lot of jazz elements, it's improvised music but more of a groove thing with samples and the Turkish guys wail over the top with their traditional sounds. We've recorded an album for the Turkish market but it will also get a Stateside release.
"Before that I was in Russia with a German trombonist Nils Wogram who I've been working with a lot. We did a Goethe Institute tour and and also played four festivals in Holland and in central European clubs."
He laughs about being in Japan four years ago with a pianist whose girlfriend was a local soap opera star: "We'd be surrounded by screaming Japanese schoolgirls - and Russia this time was crazy, too. We'd play small towns and get mobbed like we were a boy band. But then we'd be shoved into the Lada truck - not a limousine."
Such acclaim is nice and being financially comfortable is good, but Penman says that's not what it's about. The young achiever is more interested in how he's grown musically.
"It's in terms of being more versatile and not scared of any situation anymore, and knowing I can not only hold my own in any context but also have something to offer. However, you are also constantly humbled in the face of all the amazing music out there. You realise you are a small entity in this world of amazing personalities.
"It's not quite so cut-throat between musicians in what I am doing, more like a healthy competition and you check each other out. The higher you go the less it happens and the more respect for your unique musicianship."
And Penman is taking his art to some of New York's best known venues. He's played Sweet Basil and the Blue Note although prefers smaller clubs which are cheaper and less formal. Not that the modest Penman discounts the possibility of getting into one of the biggest.
In what almost passes for naked ambition he says: "I haven't played in the Village Vanguard - yet. But I look forward to that day."