Graham Reid | | 2 min read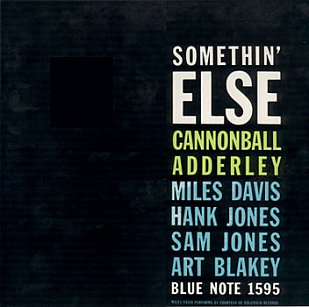 The most commonly held opinion about this classic Blue Note album from 1958 by alto saxophonist Cannonball Adderley -- his only album on the label -- is that he is outshone by his famous sideman Miles Davis (who wrote the bluesy title track).
That's not entirely true but -- because Adderley was in Davis' band at this time -- there's no doubt Davis is on excellent form and very much the equal partner on the session.
And it's quite some group anyway which has Hank Jones on piano, Sam Jones on bass and drummer Art Blakey.
These were powerful players and here all are at a particular peak. Adderley wasn't yet 30 and a year later he would be on Davis' Kind of Blue sessions alongside John Coltrane and Bill Evans. He was in that league.
A couple of the tunes -- Cole Porter's Love For Sale and the standard Autumn Leaves -- would be regularly played by Davis' group at the time, and in fact the liner notes by Leonard Feather suggest Davis was responsible for some of the tune choices and their interpretation: Autumn Leaves from pianist Ahmad Jamal's treatment of it, Dancing in the Dark from the way Sarah Vaughan sang it.
Feather also notes what different musical backgrounds Adderley, Davis, Hank Jones and Blakey came from: Adderley was drawn to bop of the Charlie Parker kind, Davis to cooler moods and Jones came from swing. Drummer Blakey was renown for his hard bop style.
Yet on these five tunes they mesh together in a rare empathy: the title track swings effortlessly as Davis takes the helm in pure and elongated melodic lines before Adderley bounces it around in elegantly fluttering flights.
The final piece Dancing in the Dark is also one of those pieces you warm to immediately.
Blues is the theme throughout and on One for Daddy-O -- written by Cannonball's brother Nat for a Chicago DJ -- has an almost funky feel, although Davis takes it into the stratosphere at the end of one of his solos.
Listened to now, more than six decades after the sessions, we can hear in this album all the elements of classic Blue Note. It's all here from the cover design by Reid Miles through Rudy Van Gelder's recording to the playing of these young masters.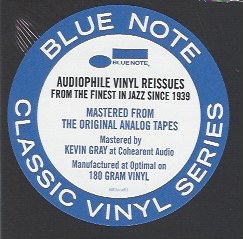 Somethin' Else was one of the limited edition 180gm vinyl reissues in the celebrations of Blue Note's 75th anniversary.
It now reappears as part of Blue Note Classic Vinyl Reissue Series (alongside Horace Silver's Song for My Father, Wayne Shorter's Speak No Evil and Joe Henderson's Page One, with more to come).
And it sounds beautiful, warm and very present.
Get yourself (re)aquainted with it.
For more on Blue Note artists old and new -- and which includes articles on the label's history, artwork and some of the vinyl reissue albums look here.
.

Albums in this Blue Note Classic Vinyl Series of reissues are available in New Zealand through Southbound Records here.