Graham Reid | | 3 min read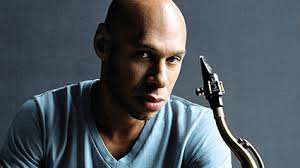 Joshua Redman – born in 1969 and the pre-eminent jazz saxophonist of his generation – sounds slightly embarrassed when it's suggested, given his age, he maybe had Kiss posters on his bedroom wall when he was at school?
"Actually, I never got into Kiss," he laughs. "It was Prince or Michael Jackson. The Police was a big band for me, and early hip-hop like Run DMC and LL Cool J."
He quickly namechecks as teenage favourites the Beatles, Stones, Led Zeppelin, the classic soul of Otis Redding, Aretha Franklin and the Temptations.
"Earth, Wind and Fire too.So I grew up listening to jazz, but also music kids my age were listening to."
And such catholic taste doubtless accounts for the distinctive musical path he has created for himself. In the past two decades Redman has performed with classical and jazz artists, and his most recent album Walking Shadows includes ballads by the Beatles (Let It Be), John Mayer (Stop This Train) and the alt.rock band Blonde Redhead (Doll is Mine) alongside jazz standards (Lush Life, The Folks That Live on the Hill, Stardust) and Bach's Adagio.
"First and foremost I'm a jazz musician and proud to be one, but I've never felt that meant you'd only play with jazz musicians, or play music written by jazz musicians or material established as part of the jazz canon.
"Jazz has a long history of drawing from music outside of jazz for repertoire and inspiration. Some of my favourite musicians have been path-breakers in that respect. I've never felt there needs to be any conceptual barrier to music."
As one who came up in the prevailing neo-conservative era of jazz articulated by the dogmatic Wynton Marsalis, Redman stood apart for his inclusive approach to the art form, although insists he isn't making an ideological statement about what jazz players should perform.
"Because I choose a John Mayer tune, I'm not saying everyone should go find a singer-songwriter pop icon and do a jazz cover of one of their tunes.
"For me music is a very personal and subjective experience, especially jazz where so much of the truth and meaning is tied to that particular moment when it is expressed, because it's a music of improvisation and what you feel at that moment.
"Universal truth can come out of that, but jazz is constantly changing and evolving. It's too dynamic and organic to be restricted by ideology."
Redman – who introduces himself as "Josh" – might seem to have had his path predetermined because his saxophonist father Dewey, who died in 2006, played alongside geniuses such as Ornette Coleman, Don Cherry and Keith Jarrett. But Redman – raised by his mother, dancer Renee Shedroff – insists his father was just one influence alongside others he admired such as Sonny Rollins, John Coltrane, Joe Henderson, Dexter Gordon and Stan Getz.
"He was a great musician but I never thought I was going to be, or not going to be, a jazz musician because of what he did."
He played in the school jazz band and in 91 – the year he graduated from Harvard – won the Thelonious Monk International Jazz Saxophone Competition, although says music was simply an escape from study and not a discipline he poured energy into: "It wasn't until I graduated and moved to New York that I started to get serious."
In that crucible of creativity his rise was rapid. Bandstand experience came with other young lions (among them pianist Brad Mehldau who produced and played on Walking Shadows) and senior statesmen such as his father's friend bassist Charlie Haden, and guitarist Pat Metheny.
One of his early live bands included expat New Zealander Matt Penman ("one of the great bass players, also one of the greatest composers"), he has recorded a dozen studio albums under his own name in the past two decades and critical accolades have piled up.
In 2006 he recorded here with John Psathas (the saxophone concerto Omnifenix on Psathas' View From Olympus album) and is delighted to be playing his first New Zealand concert with his current group: drummer Gregory Hutchinson, pianist Aaron Goldberg and bassist Reuben Rogers.
"We have a long history and they play with tremendous soul and spirit. We'll maybe play a tune or two from Walking Shadows but I don't limit this band."
He says that ballads album had been on his list because he'd always loved the genre, but would the boy who had Prince and Police posters consider a reggae-funk album?
"Although I love reggae and funk I can't honestly say that's on my list," he laughs. "But the list remains open. It's never a finished list."